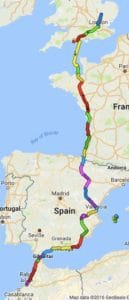 I'm returning home from Rabat today 76 days after leaving Cambridge. Although I've returned back to the UK  a couple of times. Once from La Rochelle and once from Zaragoza both times with Ryanair. Total days in the saddle including the time when I was biking around Ibiza with Sally was 39 days and distance covered 2,218 miles (3549km) and ascended 92,287 feet (28,129 metres) or 2,300 feet per day 🙂
It's been a very pleasurable ride and I really enjoyed Spain, apart from the dreaded section from Malaga to Sabinillas. Which interestingly I met at breakfast this morning a guy from Munich who is cycling from Malaga to Agadir and he agreed 🙂 I don't envy his rde today in thunderstorms and the dreaded headwind! I wonder if he will hop on a bus again.
All the hotels have been OK with the most expensive at well over £100, of course at to be a  pub in the UK. The cheapest were a couple of places in Spain charging £21 per night. Overall I've spent  about £2,500 on accommodation for the 58 nights I've slept away so about £44 per night mainly with breakfasts.
The reason for returning earlier than anticipated is that the weather in Morocco is now atrocious, heavy rain & high head winds. So really it's gone from a very pleasant ride to a bit of an ordeal.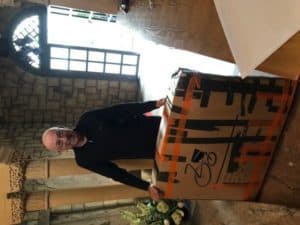 Ryanair insist the bike is in a box, so the very friendly owner of Hotel Lutece in Rabat took me around to the local courier in the next street who gave me free run of their empty used cardboard boxes. I at to dismantle the bike a lot more than I normally do to get the bike in a box that would fit in Nick's car back at Stansted.
I've blogged every moving day and the text of all the posts is in a pdf here or you can view them all in this link