Before I disappear on my next adventure I thought I would do a bit of an overview on last year, 2016.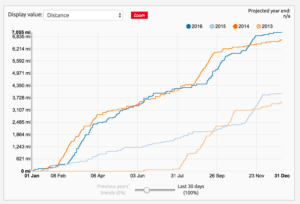 Strava with the Veloviewer plugin produces this rather elegant chart (now if only Fitbit would get one instead of hoarding your data).
As you can see I did 7,055 miles on the bikes compared to the 3,750 in 2015 mainly due to my HoLep op lin May 2015. The two main trips in 2016 was a tour of Southern Africa about 2,000 miles and my wanderings from Cambridge to Morocco at about 2,200 miles. Which still leaves 2,800 miles riding in England, mainly with Sally 🙂
Interestingly the Moves App makes it a tad under 7,000 miles so a pretty good correlation there. Moves also says I walked over four million steps (4,196,851). Whereas Fitbit reckons I walked over six million steps (6,020,645). That's because Fitbit still clocks up even when riding a bike which is one of the reasons I'm moving away from them. I now use the Pedometer App on my iwatch2 .
Weight wise I started the year at just over 81kg and finished it at just under 80kg so not much change given the millions of calories burnt and consumed, isn't the body amazing.
Apple Photo says I took 20,600 pics in 2016, although there are probably certainly quite a few duplicates there.