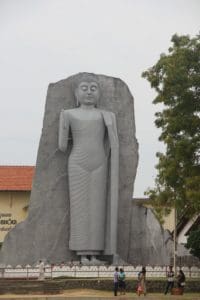 Sunday 19 February 2017
It was grey and drizzling again when I left the peace of Gayana Guest House to be confronted by the frenetic Tangalle literally a few yards around the corner. Quite a shock that early in the morning.
The road went alongside the sea and it was great to see the palm fringed beaches. I kept making little detours from the road down narrow lanes with incredibly steep hills, a bit like Cornwall riding. At Horseshoe Bay I was watching the locals surfing when a guy sidled up to me and asked if I enjoyed Sri Lanka – he then proceeded to tell me if I bought some land I could become a citizen 🙂 must say it has its attractions 🙂 I wished him well and tried to bike up the incredibly steep hill! At least his land wouldn't be affected by tsunami flooding.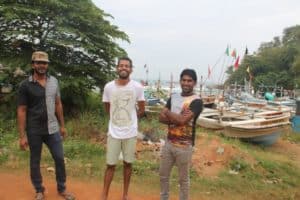 At the lovely named Noonnawella beach I met these three lads one of whom was wearing a great cycling T shirt saying 1947 L Alpe d'Huez very appropriate for me. 🙂
Eventually I came to Dondra and the lighthouse marking the southern most point of the island. No fancy spot to take a photo 🙁 I ended up going through some guys garden to get to the rocks so I could get a decent pic of the bike and lighthouse. Disappointing compared to San Pedro.
I retuned to the village and it's huge statue of the Buddha and continued onto the main road past the huge beach at Gunawardena and across the river eventually arriving in Mirissa. I saw a good looking hotel and so went to enquire to be told by a very snooty lady they had no vacancies intrigued I left and checked on booking.com to find they had loads of vacancies! Not worth paying £250 though to see the look on her face 🙂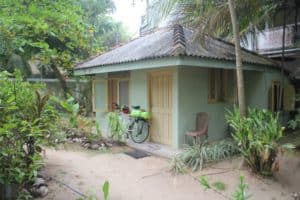 I continued down to the harbour and all the whale viewing boats. On the way I spied The Club Mirissa with its cabanas in a huge garden and only £16 per night 🙂 I booked in for two nights and the whale viewing trip the next morning.
In the evening the lady at Club Mirissa arranged for me to have a 90 minute massage at Badora Spa definitely not a relaxing Sally massage! He pummelled my legs and found all the pain points, suddenly I remembered my stab wound in the left thigh (I was stabbed at school when I was 13/14).  Another time I suddenly sat upright. Did it do any good time will tell I guess. One thing for sure – he needs a table with a hole for my head 🙁
The Strava for the day is here but with the wrong date as I didn't reset it before I left but the night before 🙁 the pics are on Dropbox here