A bit of a long day today visiting Addo Elephant park in the morning and the neighbouring Schotia Safaris private reserve in the afternoon. Both trips were organised by Alan Tours.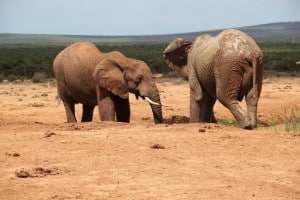 Luke the driver & guide picked me up at 7.30am and whisked me the 30 miles from GB's to Addo National Park for my private tour. As luck would have it a huge elephant was trying to leave as we entered so a good start to the day 🙂  This was quickly followed by one of the smallest, a dung beetle 🙂
We toured around with Luke being very knowledgeable about all the fauna and creatures in the park, the 600+ elephants were in hiding so we only got to see a couple more playing by a water hole but to compensate we saw numerous other birds and animals.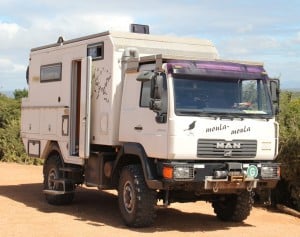 At coffee break we came across Rita and Freddy Reick who have been driving around the world for 8 years in their jumbo converted truck. All I could think about after coffee  was how hilly the terrain was for cycling 🙁 After an excellent lunch the second part of the day began with Luke dropping me of at Schotia Safaris,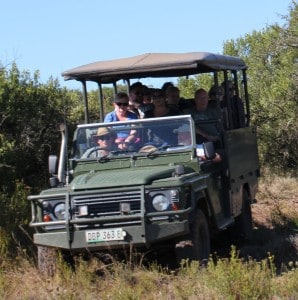 This was certainly not a private tour! 70 of us piled into 7 special Land Rovers to go and see what turned out to be, for the big ones only semi wild animals so really a bigger version of Woburn except of cause this is their natural habitat so the giraffes are eating the trees and the lions are eating the giraffes! Pretty interesting overall with the highlight seeing the pride of lions very close up in their natural environment doing what lions do the most 😉  & it's not eating! with no barriers.
I had to admire the young drivers handling of the vehicle – more like the Land Rover proving ground especially with 9 folks up on a raised platform. An excellent evening meal was served by the drivers.
We covered 145 miles in the 14 hours I was out. So a tough & tiring day clicking on the shutter.
Tomorrow my Garden Route bike ride starts assuming I can pack everything in the bags…..
Today's pics are on Google here