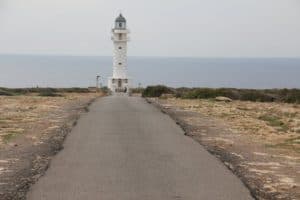 I'm writing this back in Ibiza Town having just spent a couple of nights on the smallest of the big four Balearic Islands, Formentera.
The island itself is nothing remarkable, although it's famed for its clear water & beaches which are reasonably impressive. The biking consists of riding to each of the lighthouses and around the lake. A grand total of 36 miles and 1500 ft of climbing 🙂 So not a big island 🙂 Although with an MTB you could do more. It must be chaotic in the summer seeing the literally hundreds of mopeds & bikes waiting to be rented when the ferries come in.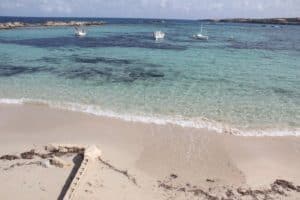 I stayed at the Hostal Bon Sol in San Ferrán de ses Roques a pleasant hostel whose main misfortune is to be adjacent to the huge street cafe outside 🙁  The other omission is no chair & desk in the room hence the delay in this post.
It was pouring it down when I left this morning so another good test for the iPhone 7 it seems to survive although once the screen is covered in water the touch bit suffers and occasionally the phone thinks the rain is me touching it.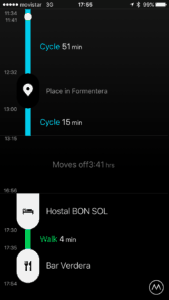 The Moves.app is really suffering on the iPhone 7 suddenly turning itself off for varying lengths of time. I think it's a memory problem 🙁 although why it's so much worse on the new phone and OS who knows.
There are a few pics on Dropbox here