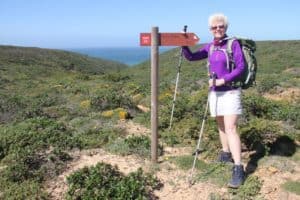 Sally decided that it was time for us to return to multi-day hiking 🙂 and go to somewhere warmer than the UK for her weeks holiday in March.
So yesterday we sat on the tarmac at Luton airport for the best part of 3 hours waiting for the Portugese flight controllers call to say we could depart to Faro. We eventually arrived at Faro airport at 8.30pm 🙁  having left home at 10.30am.
At Faro we had another wait for the taxi to Sagres, finally arriving at the Mareta View B&B at 10.30pm. We quickly dashed out for a rather excellent meal & wine at Mums Restaurant.
Today after a fantastic buffet breakfast we started our walk complete with rucksacks & poles my bag weighing in at 8kg. Once again mainly due to all my electronics.
The day was sunny but oh so so windy which bought the perceived temperature down to13 degrees, the scenery was superb especially with the crystal clear air and bright sunshine. The cliffs are stunning and the wild flowers very abundant. The walking surface was very varied with sand, ankle twisting rocks, tarmac & tracks.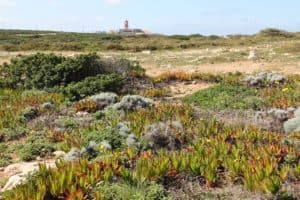 We walked from  Sagres to the castle but refused the entrance fee so then headed to the lighthouse at the end of the world using a variety of tracks and on road walking. After the lighthouse we went along the cliffs to Praia do Telherio and then back on to the GR13 to Vila do Bispo and the highly rated Pure Flor de Esteva B&B for the night.
A good walk of over 14 miles and 1300 feet of ascent according to Strava made harder with the constant high winds in our face 🙁 The days pictures are here
We are still undecided as to which route to go tomorrow 🙁 the preferred inland route appears to suffer a lack of accommodation whereas the coastal route we will be walking into the high winds again.