What an amazing day 🙂 It's just so pleasurable to walk of a plane to a nearby hotel and pick up your bike. Have a great night's sleep, yep OK the salmon steak that I ordered for dinner was I reckon part of a cow's behind, but we won't that let ruin a great day 🙂 Neither will convincing myself to buy a Fitbit blaze heart rate monitor from Dixons at Stansted 🙂
I set of this morning with various routes planned to Royan, Strava and maps.me wanted me to avoid the centre of La Rochelle. However, the  hotel owner and Google maps shrugged their shoulders, so I went through the centre with no problem 🙂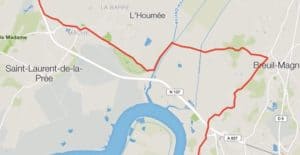 All went well until I hit the Route Barree signs, which I ignored of cause. The problem was they were rebuilding a level crossing at St Laurent, the guy resolutely refused to let me cross, even though i could easily have done 🙂 So France has jobs worth characters too. My little detour all went well although I thought I could never turn left as Gmaps kept wanting to send me across fields.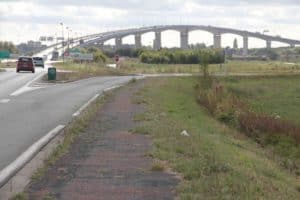 Then it was the awesome crossing of La Charente although quite why the bridge is so high is a bit of a mystery to me.
I arrived at Royan to find that I had missed the ferry by 15mins and the next was at 4pm so I made a quick return into Royan to devour three scoops of delicious ice cream 🙂 🙂
Eventually I made it across the Gironde Estuary on the €5 ferry across to Verdun. On arrival, all the map apps had ceremoniously crashed! the gps thought I was still on the other bank 🙁  Eventually Apple maps came to life (I ended up deleting Google maps and reinstalling it later) it took me on on a very circuitous route to Soulac, which has to be said is a rather gorgeous town especially on a warm evening, although the Germans on the next table at Restaurant La Station kept complaining, so much so i moved outside so the poor dears could seal themselves in 🙁
The Hotel Neptune is adequate although I had to remind him of the free pression donated by booking.com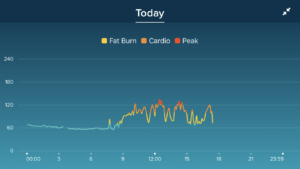 All in all a great day after a lovely weekend with Sally 🙂 The Blaze is disappointing as the heart rate only appears much later and the screen is difficult to read on the move.
Strava says I did 57.4 miles and 6.7 miles so 64 miles of very pleasant riding.
Some pics are here