Today I was quite pleased to be leaving The Homestay, I found it a bit humourless and not so friendly, in fact it was only the new girl who had any cheer in her at all.
The morning started off cold and drizzly but after an hour or so the rain stopped and I was humming along the relatively traffic free Ho Chi Minh highway with it's lovely smooth suface. BTW you can always tell if you are on this road as it has a yellow lane marker rather than the usual white.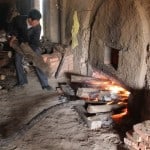 I gave myself a tour around a roof tile making place, making them in the time honoured fashioned of pressing the clay, allowing it to air dry and then firing or maybe it's just drying out the clay in a wood fired long kiln. Fascinating to see and how all the tiles are loaded in the kiln by hand through an 18 inch square hole. It must be hot work for the guy who has to go in and hand the finished tiles out!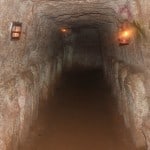 Starting to come across the memorials dedicated to the USA war. A huge new pagoda place by a modern river bridge in ? and the remains of a bombed out building in Ho Xa. The highlight today was visiting the Vjnh Moc tunnels that the local residents built to hide in duringg the incessant bombing raids. They are pretty big, I could just about stand up in them and they go for km and reach depths of 30 metres. I met one of the guys who was actually born in the tunnel. They even excavated wells inside. It's interesting how they are built into the sea cliff face, so that you can actually come out on the beach. Also interesting to see their collection of unexploded bombs and other artefacts in their little museum.
It started to get late nd after 80 odd miles of bikingI was beginning to panic about finding somewhere to sleep. However, in Cho Ngoi about 3 miles along the coast from the tunnels I happened upon The Ngoc Ha Guest House with the aid of Google translate I managed to get a room and a fantastic vegetarian dinner.
The only problem is the house has no WiFi so the pictures aren't up yet but the Strava is at https://strava.com/activities/113366702 a very respectable 84.1 miles in just over 6 hours including 3000 feet of climbing 🙂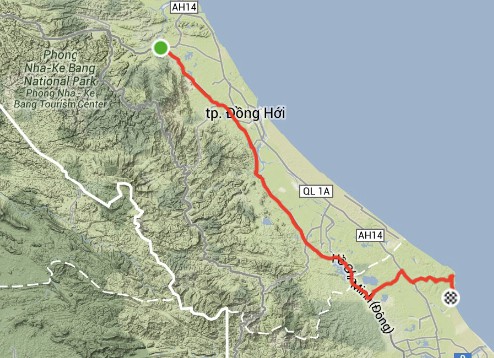 The pictures can be found here