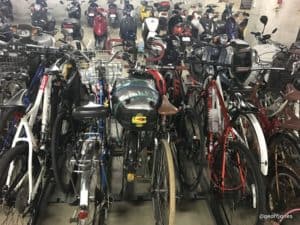 The crossing from Busan was very smooth and I slept all the way. The immigration officer looked askance at me and wanted to see my flight home details and how was I going to get to Tokyo? Good question I thought!
I tried to get some Yen in the terminal with my plastic but no go 🙁 The bank teller said I had to use the cashpoint a mile down the road in a 7/11 which thank goodness worked. For me, the amazing thing about their notes is that they are big and all totally pristine, like the rest of the country I guess.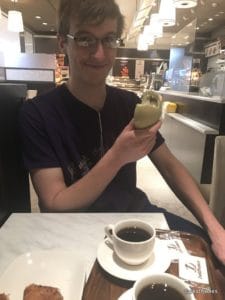 I dithered about what to do so ended up parking my bike in the cavernous space under the square outside the main station (take note Cambridge this is a real pedestrian square)  the bike racks are awesome they are on sliding rails so the bikes crunch up against each other so compacting them, when you want to get it out you just push the others down the track 🙂 It's free for 2 hours afterwards a modest charge, Since it takes scooters etc there is a moving belt to assist going up the steps.
The shopping is amazing, the electronics place, Yodobashi behind the main station, where I got my SIM (5GB for £39) makes a Currys look like a village shop! Coffee shops and bakeries galore I easily packed in the missing calories from yesterday. Everyone I've met speaks some English or at least willing to try.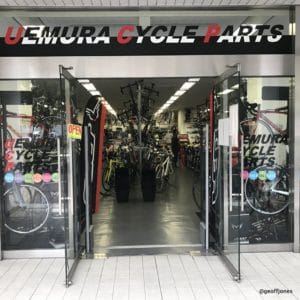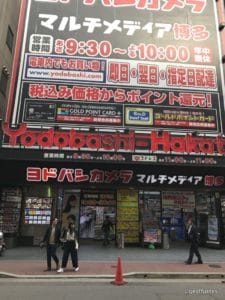 An American from Colorado, Art, offered his language skills. btw Art if you read this I returned to Yodobashi and found shelves of MiFi type devices – but only obtainable with a 2-year contract) So the FreeTel SIM I purchased with you is still the best value.
I also found a bike shop to salivate over, Uemura Cycle Parts, I've never seen such a well stocked,  comprehensive bike shop. It will be interesting to see what riders use when I start riding, which brings me to the sad part. Rain forecast for the next 6 days. It's Morocco all over again 🙁
Currently, I'm staying at the Daiwa Roynet Hotel an aircrew favorite by the number staying here
All the pictures so far are here