Weather wise an amazing perfect biking day especially with the wind coming from the South when I'm travelling North!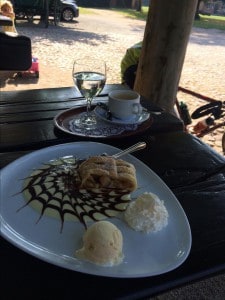 Breakfast was an OK buffet so I was soon on my way to make a quick stop at Lidl and stock up on Rita chocolate and energy drink plus the obligatory banana. The first section was on quite a busy road but I was soon going around fields with the hedges smelling divine with wild roses, I couldn't resist stopping at the beautiful inn in Buttnershof where they dealt me the most amazing Apple Strudel 🙂  I was going so well on the left bank I totally missed going over on the right bank to see Havelberg 🙁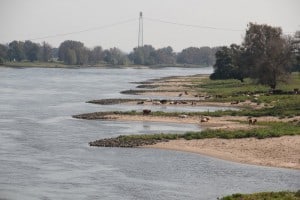 The ride was reminding me of The Danube riding along the top of the flood banks with good views all around and at a good pace. I finally managed to cross over the huge railway bridge into Wittenberge once home to the Veritas/Singer sewing machine factory all now defunct of cause. I was going to stay in Wittenburg but it was still early (because I had 'missed' Havelburg. Also the place didn't appeal to me; run down and I hate signs outside cafes that say don't leave bikes on their wall.
So with the good wind and write up in the book,  I decided to head for Lenzen. Lenzen turned into a disaster with the Wassermuhle Hotel derelict,  Hotel Burg Lenzen allegedly full even though no cars or bikes parked there, TheHotel  Scutzenhaus not condescending to open till 5pm apparently. 🙁  So I rang (Yes you can use the iPhone as a phone)  the Hotel Alte Fischerkate in Mödlich, they had a room in their annexe so thats where I am now.
Still no 3G networks & the hotel WiFi is appallingly slow. The front tyre has had a slow puncture  all day from the poor repair I did the other day but hopefully I've now repaired it again.
I managed 77.9 miles (although at least 5 of them was messing about in Lenzen today which you can see on Strava here a few pictures are here.