Tuesday 16 June 2015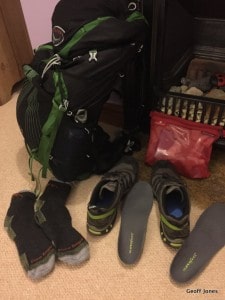 Yesterday I had a shopping splurge day at Open Air in Cambridge 🙂 I bought myself some new Salomon Xa Pro 3D trainers with added Superfeet carbon insoles & Darn Tough socks. I also bought a new Osprey Exos 38 lightweight framed rucsac and a Pack-It toiletries bag. So after spending all that money  I thought I had better continue my walk…
I left late so didn't start walking from Milton Keynes until 12.45. I decided to head of to the Grand Union Canal via Campbell Park which is certainly heaps better than the walk through Springfield I did last week. I stopped at the unusual Camphill Cafe for tea & a cheese scone.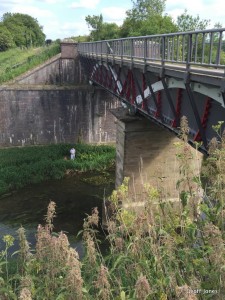 The canal does an amazing loop around the edge of Milton Keynes to obviously avoid the hill, so you walk 5 miles to almost get back to where you started. At Wolverton, once past the huge and decaying rail carriage works it starts heading North once again, through very pleasant countryside with the canal carried over a couple of amazing aqueducts.
However, I'm finding it all a bit of a tramp & keep wishing I had my bike! My right foot still has a small blister which doesn't help. Also having a sphincter spasm after every pee is painful and very annoying 🙁 Lets hope both go away soon.
When in Milton Keynes I had booked The Windmill Cottage in Blisworth they had recommended me to stop in Stoke Bruerne for my evening meal before venturing to the top of the hill and their property. I eventually climbed up beside the 7 locks in Stoke Bruerne and settled on The Boat Inn for an excellent meal, NOT Fish and chips tonight.
A short walk up over the tunnel took me to my resting place for tonight. The Windmill Cottage is excellent with the owners Caroline & very friendly.
The new kit seems OK although with the blister it's hard to tell about the shoes. The toiletries bag is pretty hopeless as everything ends in a huge muddle. The rucsac seems OK and the tent etc fits inside OK.
Todays 17 mile Strava is here and all the days pics are here