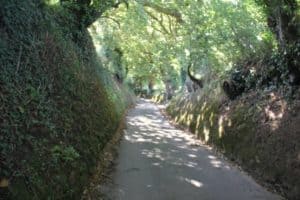 Due to the vagaries of the monopoly supplier of ferries to Jersey, Condor Ferries, there was no ferry to St Malo today 🙁 So an official holiday was declared by me.
With the unexpected day here I decided to revisit the North coast, this time dropping down into the coves and also practising the Boulay bay hill climb unfortunately I had a laden saddle bag etc so the heart rate went out through the roof on the 24% gradient:stretch -(   It still brought back many fond memories of the Bolsover hill climb, which was 33%, that I used to do as a kid.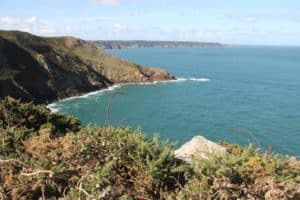 Jersey with it's so called "Green Lanes" is a bit of a cycling paradise. Quiet, well surfaced roads are ideal plus you can choose to do some pretty good hill climbing short and sharp! A lovely prevalence of reasonable cafes means you are never far from a cuppa or cake.
It's easily accessible by bike from England (Condor Ferries willing) using Portsmouth, bikes are carried free and compared to flying totally hassle free. So I'm sure I will be back for a long weekend with Sally 🙂
After the ride I took a 10 minute dip in The Sea Lido, apparently the oldest in the UK even more astonishing is that at high water the pool is 40feet under water 🙂 as usual I was perished when I got out and after chatting to the oldie regulars :-), fortunately The Runnymede Hotel , where I'm staying, is literally 100 yards up the road so a hot shower did the usual thawing out trick.
All in all a very relaxing day for me, at this rate will I make it to Ibiza? even more does it matter 🙂
The Strava says I cycled 16 miles and 1132 ft of climbing. Meanwhile my son, Nick RAN nearly 41 miles and over 5,500 feet of climbing 🙂 shurely shome mishtake….
The pictures will be found here at some point.