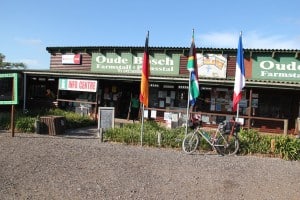 I'm sorry to say that I took the easy way out of the golf course for the first 5 miles, avoiding the dust & bumps by travelling in a 4×4 doing 70kph 🙁
I managed to sleep over 8 hours which was good, the breakfast at the golf course was OK afterwards the driver dropped me off at the tarmac of the R102. I finally started riding after having a coffee at the Farmstall, more like a supermarket than a stall. The R102 soon merged into the N2 wonderfully wide and smooth! There is something like a hard shoulder to ride on but as always that's the first thing to disappear in difficult situations.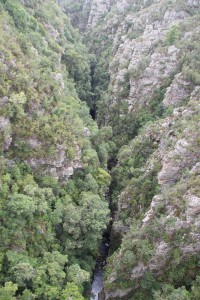 I saw my first and only touring cyclist going the opposite way we waved but didn't stop. The first WOW moment was crossing over the Storms River gorge on the Paul Sauer bridge constructed in 1956 with its 405 feet drop to the water. Pretty impressive gorge especially the vertical bounce when trucks passed over it!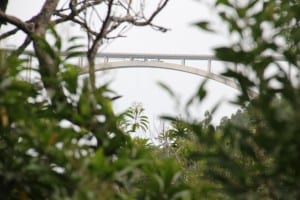 The next challenge was the Bloukrans Pass which is officially closed 🙁 However, its easily passable on a bike and a couple of adventous motorists also made it. Its very overgrown so the views of the bridge (apparently the world's longest bungee jump  are not great) the 680 foot climb out is also a bit tough. Although I did catch a glimpse of a family of baboons.
I stopped at Creswell Crags (not the ones where I used to live) for some junk food & drink then it was a fast run on a very long descent into Plettenberg Bay.
Some of the side roads like to Storms River and Nature Valley looked interesting but I bypassed them
I easily found with the aid of booking.com the previously booked Thandar Vista b&b. It was then a 22min walk up the hill and down to the beach for dinner at The Lookout Deck
Strava makes it 59.8 miles and 3,540 feet of ascent so a good day.
All the pics are here