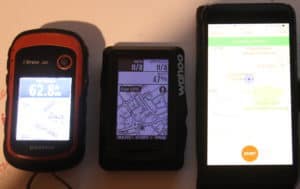 Now that I'm thinking of doing DIY Audaxes it's become essential to have a 100% reliable GPS system to record an accurate gpx trail over the 12 or so hours that a 200km ride takes me so I thought I would give the Wahoo Elemnt a try.
Of late I've had major problems with my Etrex20 turning off randomly (bad battery connection?) the iPhone crashing, the Apple Watch also crashing mysteriously.  So I've now bought a Wahoo Elemnt to see if that works any better!
Today I did a ride with SWNC to try them out and of cause, none failed 🙂  Here are the results:-
| | | | | | | |
| --- | --- | --- | --- | --- | --- | --- |
|  Distance (miles) | Move Time |  Elevation (metres) |  Move Avg (mph) |  Total time |  Device | |
| 58.45 | 4:20:58 | 1944 | 13.4 | 6:37:02 | Etrex 20 | |
|  58.11 | 4;13:36 |  1980 | 13.7 | 6:36;18 | Wahoo Elemnt | |
|  59.99 | 4:43:27 | 2313 | 12.7 | 6:35:11 |  IPhone Strava app | |
All above taken from uploaded gpx files to Strava
Important to note the Etrex & Elemnt stayed on the bike outside at the coffee stops whereas the iPhone came inside with me.
One major disadvantage of all the above is that none can read the Apple Watch heart rate data although the Cyclemeter app can do it in a rather random fashion.
The Elemnt used 50% of its battery in the over 6 hours it was on, so should be able to manage an Audax with no en-route charging, the screen did seem very clear plus the red lights warning you when not on the route could be very useful since another DIY Audax requirement is that you stick to the route previously submitted! A problem with the device could be the lack of a lanyard hole so it could fly off the bars in a major accident. It's good for the ego to see the auto stop is snappier than the Garmin so making the average moving speed faster 🙂
The Etrex20 has a lanyard connection plus uses AA batteries and did only use ~50% of the battery too. However, the screen is harder to view unless the backlight is on which tends to kill the battery. Plus of cause, it uses the famous buggy Garmin software 🙁
The iPhone is the most disappointing fulfilling the "Jack of all trades – master of none" phase. For really serious uses where it would be awful to have a mangled gpx file after riding all day, it's just too risky to totally rely on! However, as a  touring GPS, it's awesome for maps and ad hoc routes on the roadside plus booking accommodation on the move etc.
So for the moment, I will carry all 3 devices on my Audaxes 🙂 the Etrex is £100 cheaper than the Wahoo but has much less functionality although in some ways that can be an advantage as its less likely to crash.
ps Just reading this thread https://groups.google.com/forum/#!topic/wahoo-elemnt-users/jztOem_VNR4 doesn't inspire confidence 🙁