After yesterday's upset with its subsequent threatening email from Jesus Green Pool and the rather Orwellian named BETTER. I've decided to abandon swimming there for this year.  Which now leaves me more time for cycling and exploring other swimming locations with, maybe, better lifeguards & showers.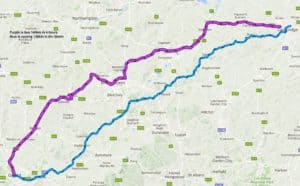 So today I decided to retrace, more or less, my previous walk to Oxford this time on a bike which meant it was easily achievable in a day. Originally it was to stay the night and return a different route. However, no accommodation seemed to be available for under £100, which I refuse to pay for a pub or b&b! I then discovered that the wondrous X5 coach (free to oldies like me) takes bikes for free 🙂
I duly set off at 8.40 under overcast skies but the promise of sunshine in the afternoon. Very pleasurable too although oncoming cyclists on the narrow bikeway was somewhat hazardous. I was looking forward to some cake at Woburn which is halfway (walking it was my second night – today it was just over 3 hours into the day). However, when I arrived, I made a poor choice with the soulless Caprioli Tearoom and pitiful scones 🙁 The Apple Watch I subsequently found gave up recording to Strava here too – maybe it didn't like having any 3G or WiFi 🙁
Today's surprise was the number of main A roads I had to cross which I can't remember from my walk plus the huge number of hills! the Oxfordshire roads were very potholed as well and I'm still surprised I didn't get any broken spokes or thrown off the bike.
This time I crossed the Oxford bypass via bridges rather than running for my life across it although for some reason I ended up near the Mini plant at Cowley which seemed to have very few minis in its car park.
I arrived at the bus station just in time to sling the bike in the luggage compartment underneath and present my oldies card 🙂 The journey home was painfully slow, 4 hours – due to the rush hour traffic from Milton Keynes etc. Interestingly it covered the almost identical distance to my ride.

All in all, a very satisfactory day now to work out which pool or river to visit tomorrow 🙂