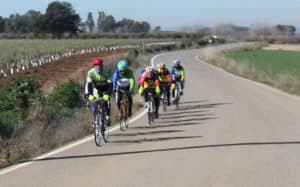 A bumper biking day a bit like an Audax with over 91 miles covered a lot of it over incredibly poor roads & tracks with each massive bump making me think that some part of the bike will have been broken but thankfully nothing had.
I left Hotel Italia after a good breakfast wondering why Dutch girls are so incredibly tall & speak such excellent English. The first part of the route was along the river no lovely cycle path here just a gravelly track past an area like a favela and folks sleeping under bridges but eventually, I was humming along a decent road with lots of cyclists on the other side.
But all that came to an end along the minor road/tracks around Guadajoz where the top layer of tarmac has partially peeled away leaving an incredibly rough service 🙂 🙂  better if they just scraped it all off!
The last few days it's been annoying me that I cant access the two highest cogs (smallest gears) on the rear cassette so I decided en-route to slacken the wire this cured the problem but then of cause I can't now access the two lowest gears (biggest cogs) since I've now gone past the mountains I just left it.
Between Los Rosales & La Monta the route took me alongside the rail track on a dirt road with lots of dogs trying to get me 🙁 most effective treatment seems to be look them in the eye and scream f… off!! rejoining the now very busy A-8005 it made me think which is worse Artics or Dogs 🙁
Amazing to see the vast orange groves ripe for picking all the Olive's now left behind strange how monoculture works.
I made it to Seville just before dark arriving at the Don Paco hotel in the centre just after 6 pm just in my T-shirt & shorts all the leg/arm warmers removed in the heat & sun, splendid riding weather.
Here is the Strava:

and Flickr, not so many Canon pics today and the wretched Flickr uploader still not accessing the iPhone pics!