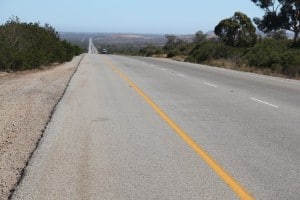 After another bout of decision making on whether to use the N7 straight away or continue up the coast on the R27 and then take my chances on reconnecting with the N7 further North. I finally set of to get some breakfast in nearby Melkbossstrand after which I headed North on the dead straight R27 to Veldrdrif.
In August/September this becomes the flower route, ablaze with colour but for now just low lying scrub vegetation. Interesting to see Africa's only nuclear power station producing 5% of South Africa's electric in a small squat building. Then it was into an endless series of resurfacing for the next 50 miles. After the first long stretch I finally cracked the system and just biked along behind the barriers on the surface they were working on. A bit tarry maybe but a lot safer than having huge trucks squeeze past you on the traffic lane.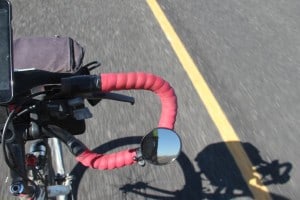 As the day progressed the wing became stronger filling my head with ideas of making a jacket that converted into a spinnaker since it was coming from the South and I was heading North 🙂
No habitations for 60 miles or so and only a couple of farmshops where I got to try out by new SnapScan app for auto paying at the till. It works a bit like Apple Pay but allows you to enter how much you want to pay. Pretty neat the lady says it's getting a lot of use.
Finally I crossed the Berg River and found the Laaiplek Hotel right next to the fish processing unit on the rivers edge. Good dinner of hake & chips with a Greek salad.
The Etrex failed to generate a gpx today as it had decided to go into test mode! But Strava on the iPhone behaved today so Strava reckons I did 83.3 miles with all those rolling hills adding in 1813ft of climbing and an overall average speed of 12.2mph.