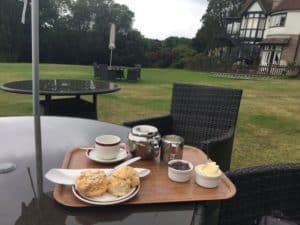 Oh boy what a glorious cock up today was 🙁 🙁
I arrived in Weymouth after 9 hours on the road to find no ferries have left here for over a year 🙁  They now run from Poole 🙁 🙁 where I was a few hours ago…….
The day started OK although starting of up a steepish narrow busy main road wasn't ideal in fact once I found a spot to stop I decided to deviate from the route chosen by Strava to one created by GMaps which went very well picking up the old railway track around Poole, although it let me down grotesquely just after Winfrith Newburgh, where it decided a track across a field up onto a ridge was OK, it wasn't 🙁   but it proved again The Galaxy is an OK mountain bike 🙂
Favourite spots of the day were the lovely village of Fordingbridge and of cause the cream tea in The New Forest. I enjoyed the converted railway track around Poole ending in The Costa at Upton which is where I should have dropped down to Poole Harbour. Plus of course my very reasonable Seaspray Guest House in Weymouth
Real problems with my gpx devices today with the ETREX20 deciding to close down half way, Strava app conking out and Memory Map failing too. However good old Moves came up trumps with th missing bits easily pulled out of Moves Export
Christopher came to the rescue by finding a train from Weymouth to Poole a quick 45min ride. So I've booked the 10.30 crossing to Jersey.
Todays Strava is in two parts here and here a total of 78.5 miles and 2,353 feet of climbing