I now know my biking limit is 65.8mi Distance & 5,396ft of ascent with the temperature  in the mid 30's with my heavyweight bike and kit 🙁 I arrived wrecked and dehydrated 🙁
The day started with a very mediocre breakfast at The Queens Hotel principally I suspect because they had 30+ folks from the Titan party there.
I started pedalling at 7.30 and luckily found a shop that would top up my local SIM having used up all my 3GB in the past week 🙁 Mainly I suspect because the Air seems to love tethering to the phone.
It was a gorgeous day clear sky little wind so I made good progress, although a bit worried that I was totally surrounded my mountains 🙁 also the cars were coming by at 100mph 🙁 After just under 2 hours I spotted a cafe 🙂 So just had to stop! There were 6 local MTB's there one of which was semi-pro. This country is certainly better suited for MTB's rather than roadwork. I had a delicious Lemon Meringue pie and smoothie 🙂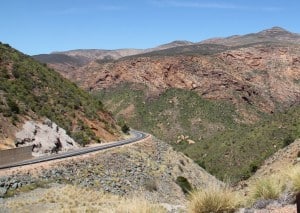 At Calitzdorp, at the foot of the pass I stopped for a drink but started to get harassed by a beggar so left early – big mistake – there were no other cafes/shops/anything at all until Ladismith. The climbs are long and arduous especially in the heat, traffic & lugging all that kit. I certainly could have used some of Sally's gels 🙂
After nearly getting pushed of the road by a succession of milk tankers I left the N62 onto The Hoeko Road, big, big mistake it was very hilly a lot further and worse very hilly on gravel roads 🙁  I ended up scrounging water of one of the houses 🙁 Interestingly the lady said that Sunday is the worst day for milk tankers.
I eventually made it to the Ladismith Manor. A great little place run by an ex Glaswegian. I managed to find a cafe open for yet more fish & chips.
The Strava stats are here and pics here