Easter Sunday 27 Mar 2016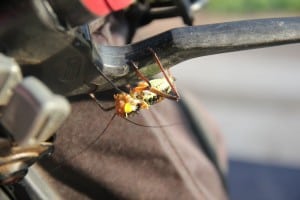 After a mega sleep of over 9 hours I went outside to find my biking shorts & top were as wet as I left them after washing last night YUK. I had an equally mega breakfast cooked by Rianne. I cleaned the bike of its creepie crawlies  and then we went around to her sons general store where a cash machine lurked in one corner 🙂 after he refilled it I was able to pay my dues and be on my way to my first town in Botswana.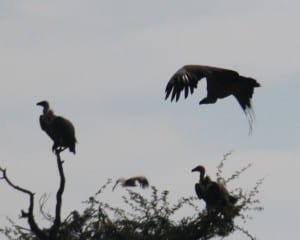 Didn't see any big animals  but a lot of vultures which apparently are in rapid decline here as in India. One bird Cuba has in abundance! Followed by watching a dung beetle at work – fascinating to see it rolling a ball as big as itself down the road and into the verge.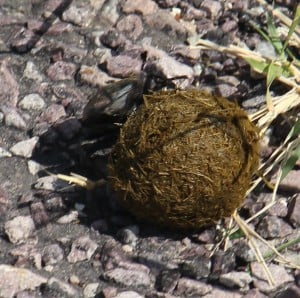 Had to love the Nando sign saying "Are we there yet" 200 miles to the left and 300 miles to the right. Kids you are in for a long wait..Although the junction would be an ideal spot for a filling station.
Finally making it wrecked to The Kalahari Arms hotel, chosen by Sally since the phone internet still wasn't working correctly. Decent size pool and a circular chalet with AC 🙂 Excellent with a Spar etc across the road..
Strava says 72.5 miles and a mere 149 feet of climbing 🙂  The pics are here