Lifeday: 25759 (70.525 yrs)
Date Sun 4 Feb 2018
Location: Lattes, Montpellier, France
A bit of a monster day especially with very limited food & drink (missing the ubiquitous 7Elevens of Asia)  plus going astray several times.
I left the hotel pretty late as I didn't get to bed until after 1 am due to my late discovery that my home-brewed power cable to the 5 port USB charger still had the US flat pin plug that I fitted for Taiwan 🙁 so I ended up having to dismantle a converter plug to wrap the wires into its innards.
The planned route wanted me to go through a building so my diversion had me go around where folks just dump their rubbish and broken glass in the roadways 🙁 I wandered around the pretty historic centre for a while looking for food, alas nowhere open.
I then made the error of following the first river not realising I was in the confluence of two huge rivers, I eventually escaped over a bridge and discovered the Via Rhona cycle path a good track not tarmacked but OK, although a big worry is puncturing or breaking one of the fancy spokes. I went to Vallabregues and found a tiny supermarket open so I made do with a croissant and bottle of milk.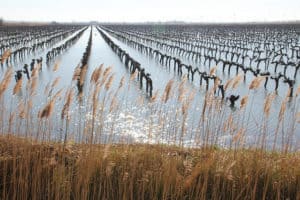 Unfortunately, past Beaucaire I followed the cycle track signs and ended up going the wrong way down a dead end track through flooded vineyards 🙁  I went back and returned to the planned route on the Elemnt, but thank goodness I good navigate with the iPhone as the maps on the Elemnt are useless once you are off route.
In Arles all was deserted apart from old men drinking strong coffee & no bread shops open, making me remember just how awful biking in France on Sundays is 🙁 I spied an open bar in Gallician and ended up with a tin of peanuts and coke. It was then onto a gorgeous cycle path along the Canal du Rhone a Sete with great views fo the Camargue even the famed wild white horses.  The track continued to varying degrees all through the seaside towns such as La Grande Motte. In the summer these places must be so heaving as to render the pathways unusable but today was pretty quiet apart from rollerbladers and a few kids on bikes.
I at last found a bread shop open at La Levade and managed to devour some pies. Finding the Ibis Budget in Lattes proved hard as there are half a dozen hotels in a hodgepodge development but I made it just before dusk.  92 miles in just over 7 hours of riding through some very pretty villages a bit reminiscent of places on the Norfolk Broads with all the boats in town centres I found the Camargue a bit disappointing but maybe I didn't find the truly wild spots.
The hotel is OK but I couldn't face walking a mile to get some dinner so I stayed in with some M&Ms and hot choccy from the vending machine outside the room.
Tomorrow is the train to Barcelona, in the rain!
The days Strava:

Today's photos on Flickr: https://www.flickr.com/gp/geoffjones/3qs1ZL
Flickr: