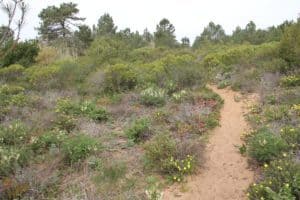 We left the hostel with our fellow walkers and the donkey drivers 🙂 at 9.25 after the poorest breakfast of this holiday so far  🙁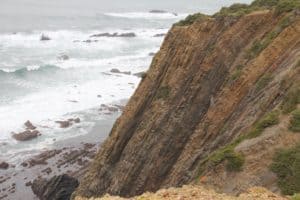 We decided to take the longer route via the cliff tops. An excellent choice with the wildflowers in bloom along a sandy track so making it a very pleasant stroll indeed, at the cliff edge it is amazing to see the sedimentary rocks now pushed vertical!
At the disused buildings on a promontory who should we meet but Emma & Patty, the American ladies we met at the pizza place last night 🙂 Later still we dropped down to the lovely beach at Praia de Monte Clerigo and a cafe selling the yummy Portuguese delicacies Pastel de Nata, 4 were dispatched in rapid time 🙂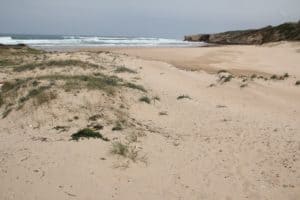 Afterwards, the walk turned inland and into a real slog first on the road and then onto tracks, very steep and like a roller coaster,  more annoying to me was on the final descent you can see the beach we were on and a  river with a road alongside totally flat 🙁
Aljezur is a very pleasant town built on the side of a hill with white painted houses, although its a pity that the 3 arch stone bridge destroyed by floods in 1947 was replaced with a steel structure. Our Amazigh Hostel is right in the centre and our room has an excellent view. The town even has a huge supermarket so we could buy some snacks for the first time to fill up on before hitting the restaurant.
All in all another very pleasant days walking in decent weather 🙂 Strava says we walked just under 13 miles with 1361 feet of ascent, although it felt a lot more!
Todays pictures are here