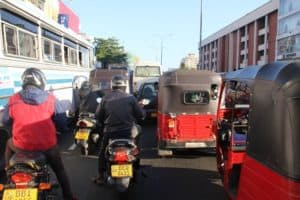 The early start didn't go quite as planned probably because I didn't get to bed until after midnight 🙁 Everything went in my bags OK although I'm sure quite a few clothing items will never get used.
Shock horror  on reaching the main road to see it totally jammed up at 7.15am, Total nightmare 🙂 at one point I saw a bakery/cafe open so popped in to get some egg noodles. This was a hard boiled egg plonked on top of a plate of noodles! I devoured it anyway. The traffic was still doing its stop/go antics and buses determined to squash me into their stops and passengers leaping out of Tuk Tuks determined to knock me off.
The traffic continued unabated after a while I began to realise that Strava had lazily put me on the main road rather than a minor road route. After yesterdays dead ends etc I could see why.maybe Strava took the easy way out. However, I was getting fed up with the buses and trucks so I gambled that the road along the beach would be OK.
It was a good call suddenly I could relax and see the real Sri Lanka, I celebrated by drinking a coconut 🙂 the road surface was good apart from where a wheeled vehicle had run through the setting concrete 🙁
I eventually arrived at the tourist mecca of Ettukala with dozens of hotels and lots of very white people. I was tiring even after my 6 stops in the 30 or so miles, the traffic noise, lack of sleep & the heat plus a headwind made me think of calling it a day even at 1pm. I came across a sign pointing down a lane saying 'Emel boutique hotel" Intrigued  I ventured down the lane and found it on a nasty bend, the booking.com price seemed OK.
They gave me a slap up lunch and two beers with the net result I slept all afternoon 🙂 Hopefully tomorrow I will get away at 7am and this time I've made Strava use the back roads.
Just hope I sleep OK, it's close to the flight path to the airport and the neighbour has dogs that I've heard barking 🙁
The Strava for the 35.7 miles is here and the pictures are on Dropbox here