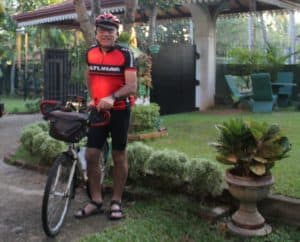 An excellent day, great breakfast at the hotel and I was on the road by 7.05 even after having by picture taken.
The route I created step by step on Strava worked very well, avoiding the main road until there was no alternative at Chilaw. Even though today was a national holiday for Independence Day all  the small shops etc were open, free enterprise in action 🙂
The first part was along the beach road and amazing to see real markets & commerce in action fishermen give the catch to their wives, kids who lay it out on the roadside (more upmarket make a simple stall) , freelance guys dash up and down on mopeds with big trays on the back buying up surplus fish who take it to the bigger outlets with proper stalls further down the road. Fascinating to me is what creates these 'bigger' places in the first places. To the untrained eye the whole road looks identical 🙂
Setting of early on empty roads meant I could do the prescribed 60 miles today although after midday the frequency of stops dramatically increases due to the heat, 32 degrees today.
Arriving in Puttalam II couldn't find anywhere to stay by looking around so I booked the Thabapanni Resort although it should change its name to Last Resort – what a dump 🙁 the total opposite to last nights place and not that much cheaper. I set of to try and find a bank to replenish the funds, it's all cash here. None of the Mastercard's would work here so I had to resort to Barclays Visa and its ripoff charges. I found a upmarket (for these parts) ice cream place, although the ice cream was of poor quality. On my little trip in search of food I met 4 guys on their bikes from Strasbourg looking for accommodation 🙂 They managed to get fixed up in Senathilaka on my way back to my dump. I'm now enjoying dinner with them, Maxima, Francesco, Christian and Michel in their hotel. Although after the meal I still feel ravenous.
So the current debate is to whether we will be allowed to cycle through the Wilpattu national park tomorrow with it's elephants etc 🙂 a 56km error if we get turned back 🙁
Todays Strava is here not bad 10.9mph into a headwind