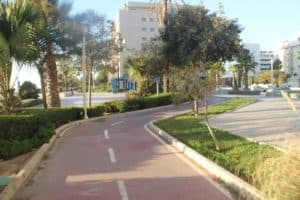 The day started very well with a Spanish breakfast at the cafe next door to The Zeus. Then I was on my way along the wonderful snaking cycle path behind the promenade in Malaga. All was bliss..
At the sports stadium the cycleway vered right, I needed to go straight on. The only problem it was an horrendously busy road leading to an even busier roundabout, I was amazed after all this time, Spain isn't going to force me to ride on these roads? At the roundabout I was bemused and so was the prostitute (most Spanish roundabouts seem to have a resident worker) as I went round a couple of times. I bit the bullet and went over the bridge amidst the huge trucks! I made it only to find the exit I wanted was blocked so more messing about and eventually I arrived on the MA-21 and it's traffic. I hugged the kerb and perimeter wire to the airport to try and avoid the trucks . After Fuengirola it got worse and  became the A-7  🙁
Action was needed, so I had Google Maps plan a new route. This avoided the main road but proceeded to take me around estates built on the cliffs with incredibly steep hills leading to steps, obviously Google's satellite resolution isn't quite good enough yet 🙁 Later on it took me to the ocean's edge expecting me to wade around 🙁  I gave up and returned to the traffic and the A-7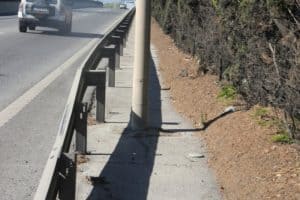 The problem with biking on urban motorways are the numerous slip roads a total nightmare with cars each side of you and then some nutter cutting you up in front. The other problem is that they leave a 'footpath' behind the barriers but the lighting clowns erect their posts dead centre making it impossible to steer around. Plus they suddenly end!
Just amazing that their premier tourist road has such appalling provision for cyclists, walkers and mopeds etc. I guess the EU money ran out.
Anyway I survived to live and tell the tale. However, I will not be cycling South from Malaga ever again!
The Hotel Dona Luisa in San Luis Sabinillas is very pleasant almost on the beach, a very welcome sight after 66 miles, 2,900 feet of climbing at 11.6mph according to Strava.
Tomorrow I should make it to Gibraltar and the southernmost point of mainland Europe at Tarifa.