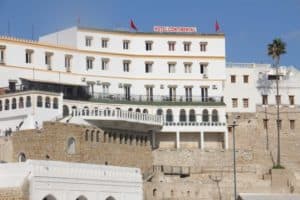 A lazy day as you can imagine, it's not possible to cycle across the Straits of Gibraltar 🙂 Instead I took the €36 high speed ferry to do the 18 miles separating Europe from Africa.
I had booked the Continental Hotel which overlooks the harbour in Tangier, easy to see but not so easy to get too up the steep alleys. The hotel itself is totally stunning, if a bit past its prime, inside with its gorgeous elaborate tilework covering every wall and its right in The Medina so very easy walking once the bike was stowed inside.
First task was to get a SIM card for my MiFi dongle. There seems to be a lot of competition with the main players having guys in the street all dressed up in their company's livery. I ended up getting a SIM on the Meditel network, the first gig of data & SIM card was 40 MAD I bought an additional 5 gig for 50 MAD so 6 gigs for £8 compared to Three's roaming charge of 6 THOUSAND pounds per gigabyte!!!! Word of warning though for 3 customers – make sure you deactivate roaming after leaving Spain on their Feel At Home plan.
The next task was getting the strap resewed on my Carradice bag, easily solved my a guy working in a tiny place just big enough for him and an industrial sewing machine – amazing and why I love places like this.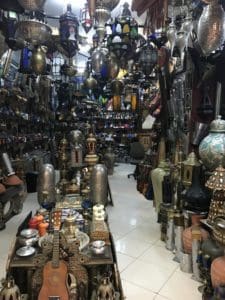 The rest of the time was spent clocking up well over 8 miles walking around The Medina I enjoyed it so much I think I will winter over here rather than Spain 🙂
Tomorrow I'm going 110km down The Atlantic coast to Larache. So it will be interesting to explore Moroccan roads & drivers.
No Strava today but some pictures here