Firstly, for those of a curious disposition I've now biked 894 miles with 86 hours in the saddle  spread over 15 biking days (average 59 miles per day),. My moving average has been 10.40mph. Plus I've had 11 rest days in my Les Gets apartment 🙂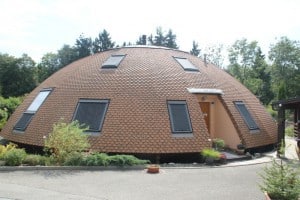 Today  I started later than normal it was sunny with a very pleasurable ride around the lake on a cycle way, so pleasurable that I forgot to start Strava for 1.5 miles. Amazingly the Garmin etrex kicked in with lovely directional arrows and even when a bridge was closed it helped me back on the route after the diversion. However, like the dreaded crease in a paper map it suddenly ended 🙁 after a mega climb it was time to recheck with the iPhone and go back down the hill and back on the course.  The Garmin then spent the next few hours desperately trying to recalculate the route….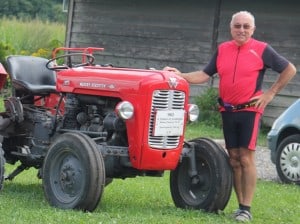 After one of the mistakes I found myself in some Tractor museum totally delighted to find a 60's Massey Ferguson 35 just like I used on Spibey's farm when I was 14 ( 2/- an hour 7 till 12 Saturday & school holidays for a year). Immediately after the museum was an ultra modern Samro potato picker in action, no more back breaking jobs on the farm. I find it very surprising just how rich the land is here lovely dark loamy soil. i bet the Swiss must be food calories totally self sufficient. Plus virtually all of Western Europe's major rivers start here!
In the afternoon it started to pour and the first hotel was full! So I ploughed on and ended up in Biel a rather down at heel place It seems. The Best Western had a special sub 100CHF offer for a single room overlooking a building site, central station and totally humungous Co-oP, so that's where I ended up.
Also today the principal language slowly changed from French to German, very interesting to see the language change over a few miles.
Todays Strava result less 1.5 miles.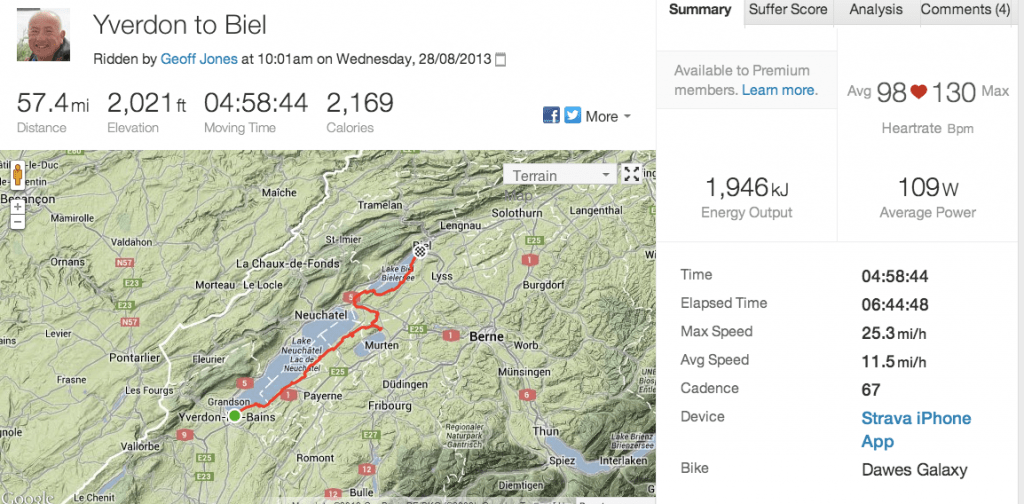 and pictures are here Note that all the pictures are geotagged.
NB
Elmton Lodge Farm, Spring Lane, Elmton
Interesting for me and the wonders of the internet, I now know it was a 2.5 mile uphill ride in the cold winter of 1961and that the farm minus the land & broiler house has recently sold for well over a million pounds see here