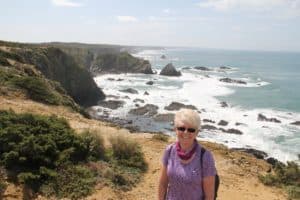 We started the day at 8 am with a 15 minute €20 taxi ride up the coast to Zambujeira do Mar where we had a lovely breakfast at the Por do Sol cafe. Fortunately, the rain stopped just before we departed in the cab 🙂
After breakfast, we started on The Fishermans Trail all be it the final section. After some confusion, we finally found the trail on the other side of a huge empty car park. This place must be heaving in the summer with the vast car parks and large number of hotels/b&b etc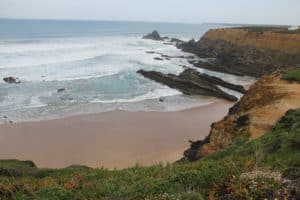 The trail is delightful with splendid views and very hilly, constantly dropping down to sea level and then straight back up. Very reminiscent for me of my walk on the South West Coast Path in Cornwall. However, one huge difference is the sand! how does all the sand get on top of the cliffs?  was my constant thought.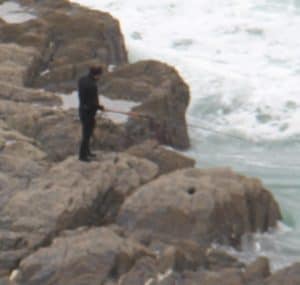 Once again the trail was virtually devoid of people even though it was sunny today.
The last 4km into Odeceixe was a bit disappointing as it's along on a flat surfaced road, at least it had no cars on it.
The trail itself was a fine end to our short walking holiday of just over 80 miles and 7,260 feet of ascent.
Today's photos are here and Strava is here
Here's my little spreadsheet:-
| | | | | | | | | | |
| --- | --- | --- | --- | --- | --- | --- | --- | --- | --- |
| Trip to Portugal | | | | Km | 128.5 | 2.2 | | | |
| | | | | Miles | 80.3 | 7261.0 | | | |
| Day | Date | From | To | Walk Days | Miles fromStrava | Elevation (ft) | min/mile | % Gradient | Hotel |
| Saturday | 11 Mar 2017 | Cambridge | Sagres | | | | | | Mareta View |
| Sunday | 12 Mar 2017 | Sagres | Vila do Bispo | 1 | 14.4 | 1319 | 21.37 | 3.47% | Pure Flor de Esteva |
| Monday | 13 Mar 2017 | Vila do Bispo | Carrapateira | 2 | 14.3 | 964 | 19.3 | 2.55% | Carrapateira Guest House |
| Tuesday | 14 Mar 2017 | Carrapateira | Arrifana | 3 | 15.4 | 1746 | 19.34 | 4.29% | Arrifana Destination Hostel |
| Wednesday | 15 Mar 2017 | Arrifana | Aljezur | 4 | 12.6 | 1361 | 21.3 | 4.09% | Amazigh Hostel |
| Thursday | 16 Mar 2017 | Aljezur | Odeceixe | 5 | 11.5 | 444 | 18.57 | 1.46% | Hospedaria Firmino Bernardino |
| Friday | 17 Mar 2017 | Zambujeira do Mar to Odeceixe | Odeceixe | 6 | 12.1 | 1427 | 22.1 | 4.47% | Hospedaria Firmino Bernardino |