I couldn't face the breakfast or it's price so I was on the road before 7.  After 6 hours of OK sleep in my ginormous bed.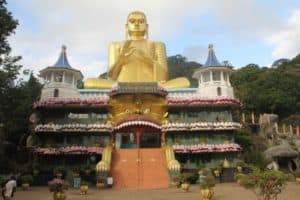 First stop was the Golden Buddha in Danbulla it really is magnificent, I even walked upto the Rock Temple stupidly taking my GPS which then had the effect of reducing my cycle speed 🙁  After the walk I had a breakfast including ice cream 🙂 in their restaurant, watching the bus loads of tourists arrive.
I then dropped into the museum next door which has replicas of all the cave painting, interesting to see the prehistoric looking very similar to the Creswell ones.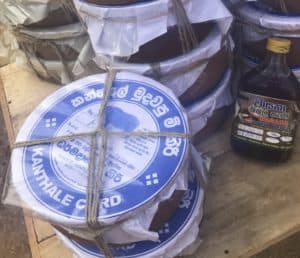 Then onwards and upwards! the next food stop was when I saw every stall selling buffalo curd in lovely stone pots, I woofed a whole one down laced with wild honey – delicious.
Further on I kept seeing these 'herb gardens' eventually the curiosity got to me and I stopped at Sirilak Spice & Herbal garden outside Matale. Fantastic one to one guide who described each plant and its uses in Ayurvedic treatments. He tried the Herbal depilatory on me and I'm pleased to say I now have a coin sized area free of hair 🙂 the active ingredient is apparently lime skins. Then he said did I want a back and head massage  with their Red Oil & Herbal Balm – what a daft question to ask me! Lovely 🙂 free for a tip to the masseur guy. Gardeners would find it fascinating especially because they get two crops a year.
Then onto Kandy, goodness me almost as bad as Colombo for traffic 🙁 also quite a lot of time out pale faced kids here. Obviously a must be aLonely Planet place.
After another ice cream I departed for my WarmShowers host Benjamin who I've now discovered lives on top of a 600metre high hill 🙁 The room is basic but his mum cooked me a lovely rice dish. The rice is cooked with coconut milk.
Tomorrow I move on to what looks like a 2000 metre climb.
The Strava is here
and pictures here