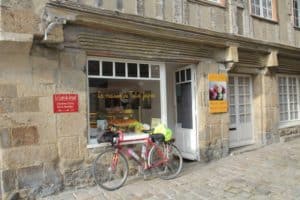 I had a really great sleep, rock hard beds suit me I think, Should modify the bed at home with a sheet of plywood as a topper 🙂
At brekkie two English cyclists were complaining at the hills between Rennes and St Malo they didn't seem to happy when I said they was a canal side path and a old railway line. How nice to be smug sometimes 🙂
I set of to on a route suggested by maps.me that avoided the dual carriageway. However when I reached the Parc de la Briantais its gates were firmly locked 🙁 🙁 I followed the track around the humungous wall and slid down to eventually reach the dual carriageway fortunately they drive on the right so I didn't have to attempt a perilous crossing of one high speed traffic lane.
I was quickly onto the Barage de la Rance and just to see the sheer power of the rising tide going through the turbines was amazing. To think the Severn Estuary barrage could generate 8% or so of UK electricity and we can't be bothered to build it 🙁 After a bit of side roads I was soon on the old railway line at Pleurtuit and the V2 cycle trail. Excellent riding and at Taden smoothly dropping onto a riverside path. Dinan is truly incredible not only for its ancient buildings but its patisseries 🙂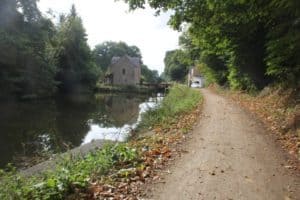 The route then carried on the Canal d'Ille et Rance. I dropped of at Tinteniac for a bite to eat and started chatting to the young couple next to me. Turns out that they are friends with Paul & Diana in Jersey and he is a pilot too! small world.
Eventually I reached Rennes  a bit parched & hungry as I couldn't find any shops after Dinan – must try and stock up tomorrow. The Hotel Lorient is OK although it only opens at 5.30pm.
Strava says todays ride was 72 miles with 1,579 feet of climbing. So not quite flat 🙂