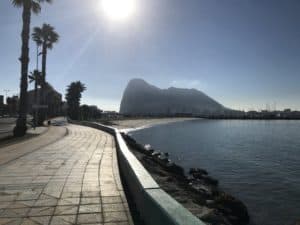 A very full on day. Starting with five miles on the dreaded A-7, less busy today so not to bad. I turned of and explored the once huge gated community of Sotogrande very posh indeed 🙂 Then with relief along the old road alongside the A-7 until I reached the A383 and then a climb to over 600 feet before swooping down into Concepcion and Gibraltar whose passport control was totally perfunctory.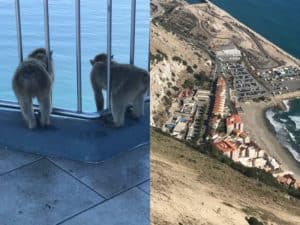 Gibraltar was incredibly busy, especially with my pet hates of scooters & taxis everywhere plus lots of tourists, not my sort of place at all, although interesting to see how England used to be but in the sun. I decided to take the cable car to the top, leaving my bike with the Fire Station below 🙂 Took loads of pics of the so called wild apes for Sally and the view.  Before quickly descending and escaping the turmoil.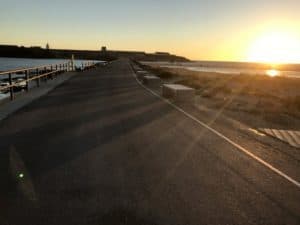 Then it was of to Tarifa climbing to well over 1,000 feet before dropping back to sea level in Tarifa and the finish of the European bit of my bike ride. This has taken 31 days of riding (excluding Ibiza)  to do 1,907 miles  and with 77,679 feet of ascent 🙂  I left home 68 days ago but have been flitting to and fro quite a bit plus spending two weeks in Ibiza so all very leisurely.
Tomorrow its the ferry across the straits and a night in Tangier, Morocco.
The Strava's for today are:
To Gibraltar  24.7 miles 1,234 feet of ascent
To Tarifa 31.6 miles 1,843 feet of ascent
The pics are on Dropbox here