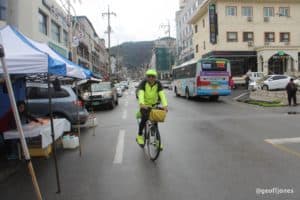 I woke up to the sound of pouring rain 🙂 However, by the time  I had eaten my honey toast for breakfast and chatted to the others the rain had cleared up, although the forecast was still pretty dire for the day.
This is the 4 Rivers Trail big hill day 🙂 where you cross the watershed between the mighty Han and Naktong river systems. The hills were nowhere as bad as folks made out, virtually all the riding is on the old wide main road which is now totally deserted as all the traffic uses the new tunnels & dual carriageway. The gradient is around 5 to 6% with only a few small spots at 10% so really it's just a grind 🙂 on clearer days the views must be fantastic although quite why every viewing platform is surrounded by tall trees is a bit of a mystery. The cafe on the top is OK too.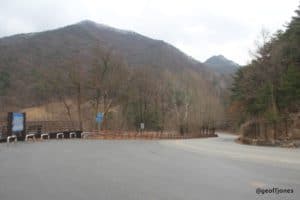 The main difficulty for me was the cold, especially on the long descent. I ended up diving into the first coffee shop at the bottom and standing in front of the AC drinking a hot chocolate 🙂
Just after Buljeongdong there is a diversion in place so I had to leave the Naktong River and do another 200 feet of climbing! before finally hitting Mungyeong / Jeomchon. After some effort I finally found the KB bank, opposite Paris Baguette, that had a Global Service cashpoint so I could restock up on 10,000WON notes 🙂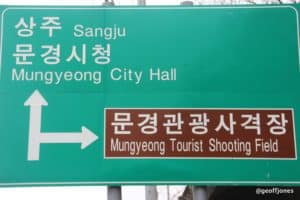 I found the Motel Olleh near the station offering a good price so I messaged the others thats where I would be. A short while later Tim & Viv showed up, followed several hours later by Scott & Laura.
The rain held of until the evening so the riding was in the dry. Strava says I did 36 miles and 2,855 feet of climbing. The photos of the day are here 
The town is quite pleasant with lots of eateries just a pity about the weather! I've now added the diversion and other stuff to OSM.