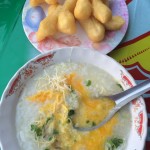 I managed a really great early start today leaving as the dawn broke just after 6am, the first two hours are bliss, lovely and cool. I stopped for a lovely roadside breakfast in Bang  Saphan and then pressed on as today was going to be long due to the distance of 70 miles+, the undulating conditions and most difficult of all THE HEAT!
In Thung Maha I was dying of thirst but, reminding me of Cambodia,  there was no where selling cold drinks in the village, so I continued up the hill  where I spied a 'western' style shop so I pulled in and much to my amazement two English ladies with their Bangkok hire bikes were sat outside!  Becky & Julie are doing an independent cycling trip  to Phuket, they had also met up with The Grasshoppers previously so we had a good little chat before they set of leaving me to my Sprites 🙂
I bumped into the ladies again at a roadside stall selling water melons, which was handy as one huge melon is too much for me but for 3 is ideal. But my word what an ordeal getting the seller to give me the price! In the end I had to get my notebook (a gift from Sally) out so she could write the price in!
The day got hotter and the hills bigger by the time I reached Pathio I was in danger of overheating! However, a Tesco/Lotus store hoved into view which I dashed into the icy cold AC, cold ice cream & drinks 🙂 when I came out I noticed a Amazon coffee shop so I disappeared into there too for a blueberry smoothies! Delicious and soooo cold.
I bumped into B&J again who were severely overheated! so in my fresh state I kept going. As I was cycling along the beachside in Chumpon beach, trying to find somewhere to stay,  who should shout me but The Grasshopper group from yesterday! They had only ridden 60km or so and then travelled in the van. However, they had seen trained monkeys collecting coconuts 🙂 So I joined them at the Chumphon Cabana Resort
Imagine my surprise when at dinner Becky & Julia joined us so 3 customers had garnered 3 leeches 🙂
Tomorrow I'm off to the islands probably ending up in Ko Sameui before continuing the cycling from Don Sak
Here is todays 70 mile Strava

and a few photos here