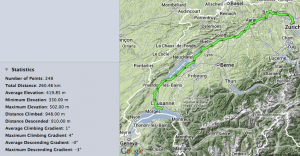 Tomorrow I'm reluctantly moving on from my lovely apartment in Les Gets towards Zurich so that I can meet my big brother & nephew next weekend for a 70th birthday bash (and I've heard a whisper it's his wife's birthday too 🙂 )
I'm fully recovered from the ride here and the excellent Thierry has fitted the bike with new chain, rear gear cassette and brake pads. The dreaded rear pannier's have been despatched home with my neighbour, as I've been assured by Sally after speaking to Pete that a tent isn't necessary 🙂
I've spent the last few days trying to sort out my Etrex 20 with maps and in a moment of sheer stupidity lost my OSX application library – which interestingly broke all my Chrome extensions in a very nasty way, the dangers of using an offline backup service. 🙁
NB: All that follows is for Mac OSX users.
What I've learnt about Garmin maps is that you can fill your Garmin Etrex up with highly detailed Open Street Maps, essentially for free by visiting Velomap and downloading the desired country(s). Installing Garmin Basecamo & Garmin MapInstall. Unzipping the maps using The Unarchiver, setting the destination to the Application Library/Garmin /Maps folder (be careful here!).
Then using Mapinstall pop them into the Garmin. I now have all of France, Germany, Switzerland, Germany, Austria, Slovakia, Croatia, Serbia, Hungary & Romania installed on my recently purchased 4GB micro SD (€8 from GITEM in Morzine).
To work out the routes I've been using Bikemap to create a track. A tip here if you want to modify someones existing track, download the gpx file to the desktop, create a new track in Bikemap and upload the gpx file, then you can edit it. To make the track into a route I used the cool JavaWa tools. I then used Basecamp to stuff the route into the Etrex. Tomorrow is the test 🙂
However, that's only the backup sorted :-). What I really will use is the iPhone and the Gaia app, I've uploaded the tracks to the iPhone via email. Then used the neat Gaia utility to auto download the relevant Open Street Map tiles to the iPhone that cover the tracks, so in theory it all works offline.
Apologies to anyone tracking me but my SFR MiFi unit has used all it's 2GB of data so I'm off air until I can reach a SIM shop in Switzerland…