Once again South Africa was excellent with The Acorn Guest House cooking a delicious breakfast that we all ate at the poolside under a clear blue sky. All traces of yesterdays rain storm disappeared giving clear views of the mountain range about to be crossed.
The dirt track Montagu Pass looked OK so I ventured up it leaving the tarmac behind. Whilst taking my panorama a runner stopped to chat and mentioned that several people had been robbed on the trail but that it was all clear now as he had just ran down it. He thought the track was way better than the tarmac as it was the end of the month, a weekend and so everyone would be drunk as it was pay day. 🙁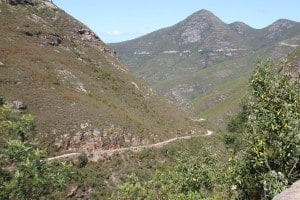 It turned into a fantastic uphill climb going up to 745 metres (2,444ft) so a worthy climb with all the kit on the bike. I only had to push it for a short section 🙁 The views were tremendous on such a clear day and only 3 cars came past me. Excellent!
It was a very bumpy free wheel down and one of my bottles escaped 🙁 The tea break at Over the Mountain Tea House was good. I crossed the N9 and kept on the dirt road all the way into Oudtshoorn arriving very parched, having lost the water and it being so hot in the mid 30's, so I quickly drank 2 litres of water 🙂
The Queens Hotel is very faded grandeur but the shower is another jet washer and the WiFi is great. I met up with 10 or so folks on a grand tour from a UK company so I joined them for dinner.
Strava says today was 40.5 miles and 3,633 feet of climbing average speed was way down at 8.4mph – thats dirt roads for you!