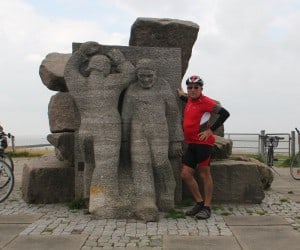 I set of, after my DIN standard breakfast at the b&b which incidentally was a reasonable £27 a night to make my way to Esbjerg and the ferry back to the UK.
In my naivety I thought the day would mainly be in Denmark and hence I might be able to access a decent mobile network 🙂 However, my geography is totally screwed as actually Denmark doesn't start until way up the peninsula. I have the whole of Schleswig-Holstein in Germany to go through first and it's dreaded second rate mobile network. This will take a couple of days on a push bike.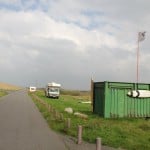 The weather was still very windy in the wrong direction for me. having the wind & noise in your face all day is very dispiriting made somewhat worse that when you stop in a town or village it miraculously disappears. The effect houses have on shelter & I guess one reason we like living huddled up together.
The seaside town of Büsum was very busy but I decided to keep going to Husum battling along the dykes and the huge gates controlling the waters of The Eider although given the height of the dykes it's not hard to see that this area will keep getting flooded.
The last stretch of the day into Husum I finally had the wind behind me although it was on poor quality tracks 🙁 . Husum is a very charming small town with many old houses etc. The first hotel was once again full 🙁 but the receptionist rang Hotel Hinrichsen and found me a room.
A tough 69 miles biked mainly on the EV12 North Sea Cycle Route with most of the journey on Strava here and some pics here. It looks like I'm going tobe Germany for at least another day before I finally get to Denmark.