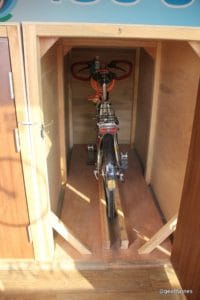 I woke to thick mist over the river but every sign it was going to be a great day. I wasn't as starving as I thought I would be after my two fried eggs and small bowl of rice for dinner. Well it is a big beef growing area 🙁 It's really surprising how local meat products are in Korea).
I was quickly away popping into town for some bread goodies and a choccy bar with a bottle of coffee, surprisingly tasty 🙂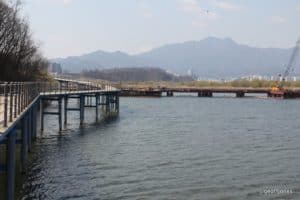 The cycleway is virtually 100% of the way, beautifully smooth with lots of boardwalks on stilts in the river going around the headlands instead of up and over – much easier biking. A minor problem was a lack of cafes although once I got to Gumi there was a street market of food vans, they insisted on selling a minimum of 3 sweetcorns 🙁 just like the shops will only sell you 4 bananas!  Crossing the river in Simi Dong I found a real cafe 🙂 the sun was getting hot so I exposed my legs and arms to the sun for the rest of the day.
Approaching Daegu I took the magnificent boardwalk along the river, with a few hundred other folks too 🙂 at the crossing it was amazing to see a whole panoply of battery devices from Segway knock offs,  battery driven scooters with huge tyres etc etc a real holiday atmosphere.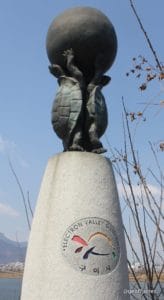 I couldn't face going into the huge town and I was getting on so well, I just love biking in the sun 🙂 so I skipped the town and kept on the opposite bank. At the huge bridge with a narrow cycleway I stupidly kept following the 4 River signs which were obviously for folks wanting to go in the city! So I turned the maps on and did a nice loop back to the correct direction!
The stress of that and seeing a long empty path ahead with over 90km on the clock made me turn off to find a motel in Oxpomyeon. I saw the modern looking Motel Inus which is good, next to a 7-11 and dumpling shop 🙂 I was a bit worried about the lack of a restaurant but I followed the vast queue of cars going down the cherry tree blossom road and lo and behold there was a huge fair underway with one of the stalls selling vegetable pancakes & beer 🙂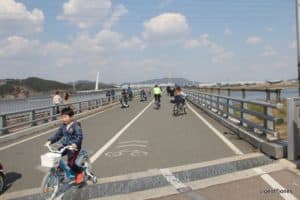 Strava says I did 57.7 miles at a good speed of 11.3mph which with all the photo stops is good (OK I had the wind behind me most of the time). Tomorrow could be the end of the trail in Busan!