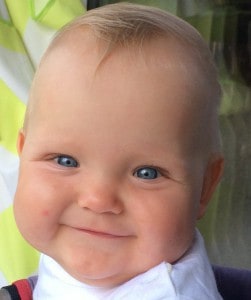 Nothing much to report today, as if there is any day 🙂 A rather pleasant time pushing the very aptly named Smilla (9 months old) with beautiful  'pausbackem' apple cheeks in Danish or for me chubby chops 🙂 around the Alster river lake for a couple of hours.
I refound the Jody bike shop and bought the TopLight Line brake plus rear light to match my dynamo. This rear light increases in intensity when braking hard so should be interesting when braking in heavy traffic.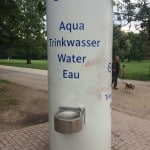 The park around the lake is interesting as it is used extensively by runners using the Alster auto electronic recording system (today's record was 27 minutes, I took 90 minutes walking with the push chair & eating an ice cream! It's good to see they still having drinking fountains instead of expecting everyone to buy bottled water.
Fascinating to go into a Curry's type sho, MediMax to be told they don't accept credit cards! What a country – I will just buy it from Amazon instead…
In the evening we went to the Harms & Schatt restaurant, excellent food & good views but perhaps not the best with two very young kids 🙂
According to Moves I've done 24,671 steps burning 973 cals over my daily budget in 3hr 55min. Fitbit says 25,122 steps and 3,087 cals burnt in 98 active mins. So not bad for a rest day..