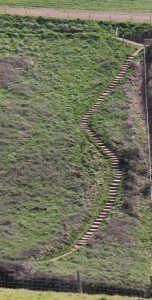 A bit of a slow and tiring walk today especially that I only covered 10 miles 🙁 The hills are now very short and very steep with quite a few having steps. I find the steps really tiring as they are rarely ever made with a decent going/riser ratio (The stair going to riser ratio (2R + G) within the range of 550 – 700 assists to promote a suitable gait pattern) plus they are very uneven, both things make them much harder to negotiate than proper steps or even a simple mud/grass slope.
I've yet to bump into any other long distance walkers most I've met are just doing small circular walks, the lady in the couple I met today just so reminded me of Annette Crosbie,but then I do have Prosopagnosia.
I finally arrived at the Hartland Quay Hotel which is the end of Section 12 in The Guide, the next section to Bude is labelled Severe and takes 8.5 hours, no accommodation seems to be on the route so I thought it wise to make it a short day and stop. They gave me room 7 which has a lovely Bay window looking towards Lundy. It has BS WiFi as can only be expected in our third world country, who would have thought that it could be as chronic. Even though the fibre optic TAT 14 running at 1.87Tera bits comes ashore about 10 miles from here at Widemouth Bay! This area should have the worlds fastest broadband!!
Oh, and the wretched Canon D550 has started playing up again, flash not popping up and the lens having a nervous twitch trying to focus itself even when not requested plus the screen not allowing access to the main menu's. Maybe SLRs & walking & me is not a good combo.
Today's stats are up in my google doc here and pics on Google+ here and here i sthe Everytrail:
The South West Coast Path – Clovelly to Hartland Quay at EveryTrail