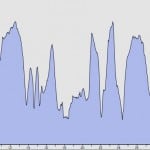 What a day! Probably one of the toughest on the whole trail! I thought folks were kidding me when they said it was going to be tough.
I did in total 24 miles with about a mile of vertical ascent! the 6 miles through the Lulworth ranges were simply amazing in terms of ascent / descent  (38 degree inclines) if the squaddies are running up and down those hills with 60Kg backpacks then boy are they fit 🙂
Fitbit had me down as burning 6216 cals today, although they didn't tell the lady at the Chiltern Lodge who produced a 500 cal meal. Good job the Compass and Square do a good range of pasties and stout type beers. 🙂
The scenery as always is stunning the weather overcast with an occasional glimpse of sun with low cloud on the top, so the views are not the best.
Tomorrow I'm only left with 15 or so miles plus a couple to get back on the trail so should easily make it to my train home which leaves at 5.55pm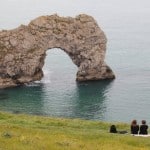 Fascinating to see the hordes of folks ascending the hill from Lulworth Cove just to see the Durdle Door rock formation. Plus huge groups of walkers going from Lulworth Cove to Osmington.
The stats are here pictures here and Everytrail below:-
Weymouth to Worth Matravers on The South West Coast Path at EveryTrail