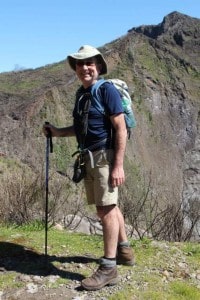 One of my dreams has been to live in the winter sun, I really hate to be burning up money just to try and keep myself warm! It seems a lot more economical to live in a climate where the sun keeps you warm! However, I couldn't live in really hot countries like Dubai etc where you equally  have to waste money on AC.
So the challenge is to find somewhere that is sunny but  still cool!, reasonably economic to live and with walking and snowboarding close by 🙂
So here I am in Madeira. 32 degrees North of the Equator surrounded by the cool Atlantic ocean, so warm but not hot! Currently its around 20ºC in the sun but cooler in the light wind. As a mega bonus the walking is superb, I've spent the last 7 days walking over very varied terrain and still haven't seen but a fraction of the island.
My return flight from Stansted on Easyjet was  £57.93  I'm now staying at the very central (behind The Cathedral) Residencial queimada de baixo which is run by the Chafariz Hotel,  the rate I'm paying is €500 for a month (Equivalent to 14 days at their €35 day rate). Which I think is very reasonable; it includes breakfast and a daily clean too. For the 10 days Sally is here they are charging me €50 more 🙂 My evening meal at Cafe do Teatro is about €17 for beer, main, dessert & coffee. Coffee's in town are about €1and the cakes are delicious.
The hotel has no internet but the municipality have installed wifi points around town so you can get free internet OK. (T-mobile are charging £10 for 50MB on their roaming tariff).
Walking is a dream 🙂 Buses (SAM, Horarios do Funchal & Rodoeste )  to the the walk starts are between €2 and €3. I'm using the Rother walking guide to Madeira. In the past week I've completed walks 2, 3, 4, 6, 8, 12, 17, 19 & 35 so still 41 more to do in that book!  Although some will need taxi's to get to the starts and a couple I'm probably not capable of doing due to my vertigo 🙁
All my walks I've done this last week are on Everytrail with pictures on Picasa.
Two very useful iPhone apps (both based on the Open Street Map project) are OffMaps which stores the OSM map locally on your iPhone and the slightly buggy Mobile City Maps on Madeira by dubbele.com.  The OSM map so far has had all the Levadas and walks beautifully mapped and its great to know exactly where you are and in what direction you are facing!  Thank goodness for the dxpower WT-1700B power pack on the iPhone.
So far I've only found one outdoor shop, O Bordao on Rue Carreira 171 run by the very helpful Joao who sold me a cheap trekking pole! Very useful since Easyjet won't allow my lovely Leki's on the plane 🙁
And now to plan tomorrows walk…..