Oh dear looking at the guide today, it says today walk was Week 2 Day 1 whereas its only my Week 1 day 5 🙂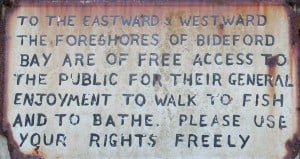 What a spectacular day today was, perfect clear blue sky 🙂 Cold so no water required and scenery to die for, such stunning villages as Appledore, Buck's Mills & Clovelly even poor Westward Ho! has it's attractions 🙂 although the folks living behind the big blocks of new flats can't be to happy about having sea views been replaced by such developments.
My favourite sign of all time is the one above that is actually positive imploring you to enjoy rather than the modern  signs which tell you all the things that you can't do.
Tody I met an interesting couple in the lovely bluebell woods who promised they woud leave a comment 🙂 sorry to bore you with my diatribe on The National Trust vis a vis the above sign.
Jenny & Debbie I will apply a more rigorous approach to my fish & chips and add the price and some * rating. Hopefully before going to see Rick Stein in Padstow. Last nights at Mr Chips in Bideford out currently the winners.
The pictures of today are here on Google+ The stats as always are here and the actual walk on my GPS is on Everytrail:
South West Coast Path – Bideford to Clovelly at EveryTrail