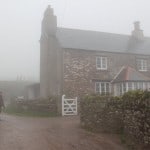 I awoke to the delicious smell of home made bread, a wholemeal loaf especially baked for me by Jackie, this combined with a fresh fruit salad with home made yogurt (Sally would really have loved) a bowl of steaming porridge plus two farm fresh eggs made a great start to the day. Which is more than can be said for the weather, totally foul, very low clouds squally heavy showers all made me seriously consider staying.
I started walking to the sonorous tone of a fog horn, that's how low the cloud was 🙁 the squalls continued for quite a while, hence no pics for the first part of the day. I ploughed onto the dreaded River Erme crossing which can only be done +- 1 hour of low tide, which today was at 2.30pm. I arrived at midday and thought I would spend a, hour or so in the cafe – which of cause I found, after climbing up the hill, was closed. Thanks ladies at The Old School House!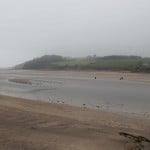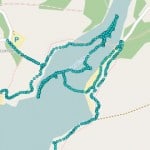 I returned to the estuary and thought I would give it a try – when the stick started bending in the current, I beat a retreat and then spent time wandering up and down to find a crossing place to no avail. Eventually at 1.30pm I managed it with water up to nearly the top of my legs using the sticks to stop me getting pushed over. The river was really swollen due to the rains.
I continued on up & down several tortuous hills  all very slippery and very close to cliff edges with swirling cloud but fortunately the rain had eased off so I could see the edges, but I still fear accidentally throwing myself off…
THe interesting part today was reflecting on how The Barings lost all their money and hence  their huge estate around Noss Mayo by bad investments in  South America (Nick Leeson did it for them again later). Whereas The Flete Estate have hung onto huge tracts of land around The Erme with no housing development.( apart from a row of ugly coast guard houses).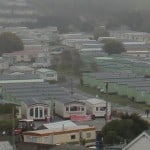 I arrived in Bigbury on Sea via the mega holiday caravan site at Challaborough Bay where for less than £5000 one can be yours! How do they get planning permission for such favela type places?.
Bigbury on sea is in the throes of moving upmarket from thirties bungalows, like Marashina where I'm staying, to huge glass palaces.  The local hotels  refuse meals to outsiders, so it was back to the caravan site for my supper – in the rain again! Maybe next time after my bonds turn up trumps I will stay at the iconic Burgh Island Hotel across the sand spit from here. 🙂
Only 190 miles to go 🙂
The pictures are here statistics here and Everytrail, as always below.
Noss Mayo to Bigbury on Sea on The South West Coast Path at EveryTrail