After the mother of all sleeps at Fairholme I awoke for the first time, on this trip, to a glorious blue sky and no wind. After a lavish breakfast I was on my way.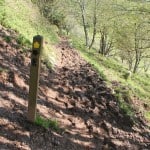 The first 4 miles to Dartmouth were OK, although I declined the option through the mud and followed a dog walker up to the coastguard cottages and then along the road (the old route apparently according to the OS). In fact on the side of the road there is a plethora of acorn signs which don't really make sense.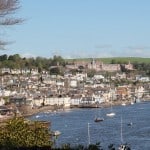 Dartmouth is very photogenic and I recognised the huge Officer Navy Training building on top of the hill, where, in a past life, I was lavishly treated to a night's stay. The stay came about because we sold them some kit for their electron microscope a long time ago (I remember the orderly reeling of a huge list of marmalades when I stupidly just asked for marmalade).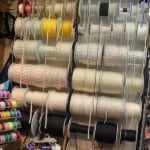 This time I was with the plebs and went to the chandlery, the sort of shop that sends my brain whirring on what I could use all the marine kit for around the house 🙂 this time it was spinnaker tape for fixing holes in my shorts pockets, some gorgeous nylon cord & a special cement for fixing tears and holes in nylon (even punctures in rubber boats). Then it was on the ferry. Which is dragged across by a tug boat driven with extraordinary skill. At  the other side I started walking up the hill only to realize I had left my poles in the shop 🙁 so back across the water and another £1.20. The ferryman felt sorry for me on the third crossing and let me on for nothing 🙂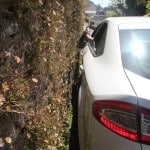 I walked on only to get stuck behind a plonker who thought his car wouldn't go down a narrow lane, I tried to convince him he could but he insisted on reversing which was even worse especially with his wife saying it was very going to hit with a good 3″ gap. I began to wonder if I would ever get started on the difficult bit ahead. Fortunately two ladies came by and took over 🙂 I squeezed by and sped on.
A short while later the ladies zoomed past, saying they had been relieved by another group who had convinced the driver to get through. I was left thinking I'm getting very slow…I overtook them shortly afterwards when they sat down to admire the view,
The route quickly turned into a roller coaster with a vengeance up and down lots of coombes (which got me thinking about my most hated teacher at school was a Ma Coombes!).
Eventually, at Berry Head I found a cafe in the fort as i was getting parched (dry carrot cake at £2.80). I left suitably refreshed and who should I find on the seats down the lane but the two ladies from earlier in the day, so maybe I'm not so slow after all 🙂 they were only on a day walking trip to Brixham taking a weekend off from kids & hubbies to visit the Dartmouth music festival.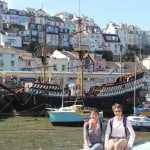 I left them at the historic replica of the  Golden Hind ship and raced on for the next 6 miles to Paignton, past 100's of Sally's objects of desire, Beach huts 🙂 even more up and downs past the kids and unhealthy looking folks dawdling along.
I eventually found The Adelphi ready for another good nights kip, although the bed is very soft!
The pics are here and stats here with Everytrail below:
Stoke Fleming to Paignton on The South West Coast Path at EveryTrail