Another brilliant sunshine day with no wind, that's two in a row now 🙂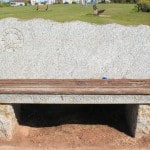 The day started with an easyish walk along The English Riviera past all the very English beach huts overlooking the red sands. Climbing out through the old gasworks, now skilfully converted into a park with the old gasometer basins made into pond like features (In Cambridge ours was converted to a Tesco!). After the harbour, who affords all these vast tupperware boats? and past the aviary I came across more interesting park benches, I loved the one made in stone by the National Association of Master Masons bench. Maybe it serves as a reminder to get your order in for your gravestone.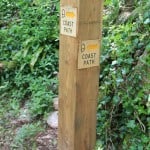 Today's trail markers were 6 inch square solid wood posts, notched out to take the directional arrows. They really love spending money on these markers. Problem is there are so few it is easily to get confused, maybe it's a cunning plan to get you to buy guides.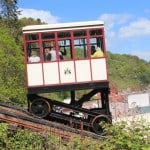 Just before Oddicombe Beach a cafe was doing brisk business selling tea at £1 and cakes at £1 as he said it kept business simple, just like the pound shop. The bridge to Oddicombe beach was allegedly closed but seemed in pretty good order to me ,-) I loved the cliff railway out of Oddicombe, although of cause I walked alongside it.
After a few more roller coaster hills and a few mistakes (Why mention a car park in the guide when you have to walk on the road! not in the car park)
Only one interesting guy today. He walks his dog 10miles in the morning & 6miles in the afternoon EVERY day. Then spends his time rock climbing round the UK. No wonder he was as thin as a rake.
The ferry across to Teignmouth was very cosy with holiday families debating about wether to walk up to the viewpoint. To get to Dawlish involved walking along the top of Brunel's seawall holding the GWR line in place.unfortunately it ended by the tunnel so there was more ascending to do. Before I called it a day at the rather expensive, jaded & dated Oceans B&B on the Marine Parade, I think i will leave future accommodation to the experts
My pictures are here stats here and Everytrail below (I've given up trying to add photos to Everytrail, It's just to frustrating & unreliable now.
Paignton to Dawlish on The South West Coast Path at EveryTrail