No complaints about the weather today! mainly sunshine light winds pretty well perfect.
After a hearty , if somewhat late breakfast, at The Ria View I took the£1.50  ferry across the estuary and started walking at 10am. I made excellent progress and soon caught up with the lads I met at the Avon ferry yesterday, now down to 3 as the fourth had suspected food poisoning from the Brie he had last night and so was taking the bus. As for the taxi two no sight of them all day.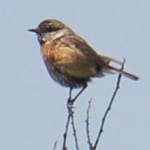 Totally inspiring scenery with some quite dodgy bits on Gammon Head climbing around rocks with a big drop on one side. Then past Maelcombe House a  sprawling pile that woud never get planning permission these days. Where <i met a full blown twitcher who pointed out the Stonechat.
At Start Point (great name especially with signs that say Coastal Path Start) I met a guy carrying a tripod who told me of the benefits of using neutral density filters and long exposures to get great cloud shots (the clouds are stretched to give the picture atmosphere).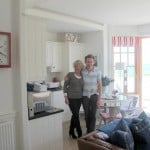 Then I dropped down to a smart large building (formerly the Trout's Hotel) where I noticed a guy languishing  in a chair, I commented there was no cafe between here and Salcombe when to my surprise his wife appeared and said we had met on the ferry from Falmouth. Oh! how I envy folks who can remember faces. So a cup of tea and slab of cake was soon forth coming and a chair passed over the railing so I could have a snack literally ON The South West Coast Path. Afterwards Paul and his wife showed me round their luxury apartment that they were preparing to rent out & an amazing place it is too. You can find it here Start Bay Lookout and it really is as luxurious as they make out 🙂
Much refreshed I continued down to Hallsands& Torcross then along the historic Slapton sands used for the mock D-Day landings (all the population was evacuated). After which the path starts using the dangerous A379 around Strete, although a £25,000 alternative path is under construction.
I finally stopped for the night in the lovely village of Stoke Fleming where Mike had fixed me up in Fairholme B&B, Chris is very friendly waiting in for me before dashing out to the Dartmouth Musical festival.
All the days pictures are here, walk statistics here and Everytrail below.
Salcombe to Stoke Fleming on The south West Coast Path at EveryTrail