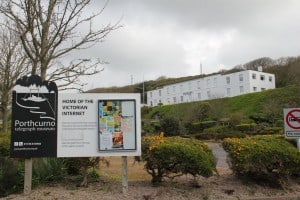 After an excellent, if with a somewhat loquacious host, at the luxurious Wearhouse. I wandered around the outside of the Old Telegraph Station marvelling how it takes so long for 'secret' places to come out of the woodwork and wondering when the TAT14 landing and GCHQ monitoring station will similarly be celebrated over on the other side of Cornwall (I wonder why TAT14 didn't come out of the ocean here? Answers in the comments please).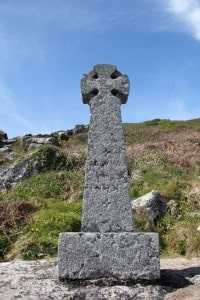 Paul turned up on the 10am bus from Penzance, we quickly caught up with the Dutch couple who I had met at breakfast, they are walking with Budget Walking to Plymouth over the next 10 days, so I'm sure I will be bumping into them again.
it is a lovely walk with magnificient views, it's interesting how the rock formations are so different over on this coast. After passing a granite cross (In The Guide at Page 75 it incorrectly states it's a war memorial. It isn't  it is carved with DWW Mar 13 1873 and in fact marks the spot where a young man fell over the cliff and was killed.) then down into the slowest cafe ever in Lamorna Cove a 30 minute wait for my cuppa.
A pleasant walk to Mousehole which is very touristy (but only 90p for a Feast) and then a roadside walk into a very working fish town (although run down) of Newlyn. I found old Penzance quite intriquing who knew that the Spanish invaded it and much later Nelson's famous victory was first announced here!
A short walk for me of only 11 or so miles but very pleasant chatting to Paul en route all day. He is now of to St Ives to do more of the walk from there. The Dutch couple are walking to Plymouth in 11 days so I may see them again, especially since they are staying at The Tremont tonight as well  (Maybe they are using Mike too!).
The weather was pretty well perfect with longer sunny spells and light winds. All though everyone is fearful of tomorrow – even the Royal Navy have moved their fleet into the bay.
As usual the statistics are here and photos here and Everytrail below.
South West Coast Path – Porthcurno to Penzance at EveryTrail