A much better walking day today. Light winds and only the threat of rain, in fact the sun popped out at various intervals.
The walk started in the industrial wastelands around Pendeen and the Geevor Tin mine which had me thinking how does The National Trust handle highly toxic & radioactive industrial waste 🙂  I met a guy who said apparently the old Uranium waste reacts with the sea air to make pretty colour stones. Just remember to bring your geiger counter.
I met up with Paul who is taking a week out to walk around this section of the path. He is using Penzance as a base and taking the bus out each day, thus only travelling with a day bag. Guess this will only work for certain sections etc.
The walk itself had quite a few hardish sections some I thought as hard as yesterday. Walking with Paul kept my times down to The Guides. So a bit steadier than yesterday.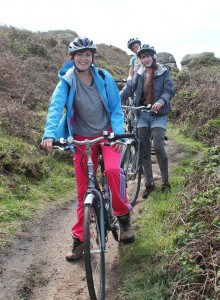 It was good fun walking upto Lands End, totally amazing the number of people setting off to John O'Groats on their bikes. My sister did it 20 years ago. My favourites were the three young lassies from The Gramophone Theatre Company in Nottingham who were trying to get there by using as many modes of transport as possible. We met them cycling. I hope they make it but without maps etc it could be a challenge 🙂
The other fun guy was Kevin the pedalling plumber on his trike with it's modified luggage carrier using 15mm copper pipe 🙂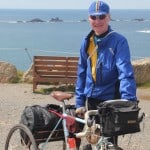 We made it to Porthcurno via the Minack Theatre where Sally and I are going in September for The Minack Proms. Mike of Luggage Transfers had me booked into the rather deluxe apartment at The Wearhouse, such luxury!
Oh! I think I know where Adam Ant got his name from, take a pee here 🙂
The pictures are here, statistics here and Everytrail.
South West Coast Path – Pendeen to Porthcurno at EveryTrail