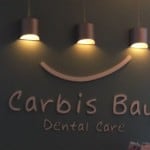 I really cannot thank Tim of Cornerways enough for getting his dentist to see me so quickly (the ones I phoned wanted 4 weeks notice), he not only took me there but had to wait whilst I had an X-ray and the tooth's extraction (what an expensive tooth that has been, with capping root canal treatment & emergency visits).
The pain from that and the hang over from our meal out  and drinkathon at his local restaurant  Cafe Pasta last night made for a hazy farewell to St Ives, but I will be back with Sally for the final weekend of their festival. Yes I enjoyed it that much 🙂
So just after midday I started the walk to Pendeen where Mike of Luggage Transfers had booked me into The North Inn (and yes, you cynics, I'm still carrying my bag!!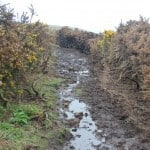 In The Guide it shows the 13.9 miles as a severe 7 hour walk! so a midday start didn't look to promising, especially after the heavy rain.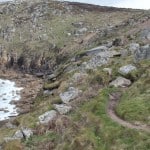 Well, I didn't find it to bad at all, in the middle there are some granite rocks etc in the way and at the end it does get very marshy in places and indeed there are no cafes etc.
However, I pushed on with my tooth pain getting worse as it thawed out from the injections and the dire warnings from the dentist preventing me from drinking & eating. I completed the section in 5 hours of walking and 1 hour of stops for twittering, putting waterproofs on/off/on and eating mint cake 🙂 I would imagine on a fine day it would be an excellent walk.
I loved these notices from a farmer with a sense of humour: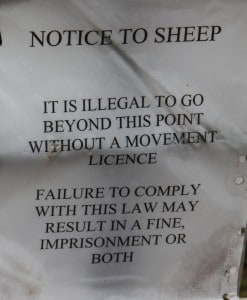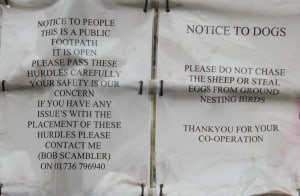 As usual the stats are here the pictures aren't up yet as I'm on a tethered computer and I'm not sure what Mr T-Mobile counts as 'reasonable use' Pictures now up here. Everytrail is here:
The South West Coast Path – St Ives to Pendeen at EveryTrail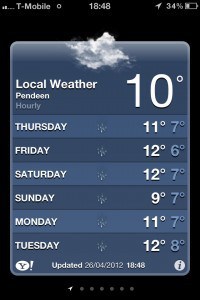 Oh and here is the depressing weather forecast for next week: