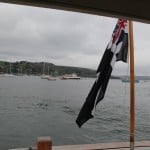 Today started with two ferry crossings both costing £4 single! The first was a mega journey of  16 minutes the second taking less than 10mins. The day's walking started in the sleepy hamlet of Place where you are carefully directed around the back of Place House so the owners can avoid the inconvenience of looking at the unkempt and spoiling their sea view.. A common practice on todays walk.
The day was overcast with very little wind so was quite pleasant walking conditions. The path's are also much drier now with almost no bad muddy spots at all. So please don't be put off with my earlier mud ridden posts 🙂
It was a reasonably tough 14 miles especially the last bit, I felt quite sorry for Roger & Pauline who I met on the ferry, as it is their first day of their weeks holiday to Plymouth. I really wish the National Trails could buy an acorn stencil and a can of a special colour spray paint, it would make the marking much simpler & cheaper, it is all so ambiguous with  these expensive, elaborate, individually carved wooden finger posts and chunks of granite etc only situated far apart and then not at trail Y points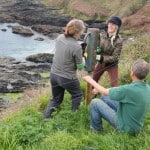 I met a couple of National Trust volunteers and a paid employee mending fences and later litter picking, I'm sorry to say they had to listen to my little diatribe on the evils of the National Trust. btw If you are reading this, the boardwalk and bridge at Nare Head are lovely and in good condition (although perhaps they should be stained a light green colour 🙂 ) My idea for insulating electric fences would be using  spiroband see here
All in all a good day's walking with very pretty villages. Had interesting chats with the NT folks and the volunteer National Coastwatch guy who reminded me of Jimmy in Reginald Perrin plus had a good natter with Roger and Pauline about dentistry and bureaucracy gone mad.
The Carradale b&b, booked by Luggage Transfers, is excellent, except for the usual internet problems.
The stats are here the pics here and Everytrail below
South West Coast Path – Falmouth to Portloe at EveryTrail